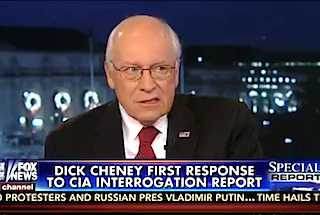 When former Vice President Dick Cheney was asked yesterday about the new Senate Intelligence Committee's report on the CIA's use of torture in the war on terror he called it a "bunch of hooey." Wednesday evening on Fox News, he went a stop further calling it "full of crap," before admitting that he has not actually read it.
"I think it's a terrible piece of work, basically, it seems to me it's deeply flawed, they didn't bother to interview key people involved in the problem," Cheney told Fox's Bret Baier. "And I think that it's sort of a classic example which you see too often in Washington where politicians get together and sort of throw the professionals under the bus."
Cheney denied that President George W. Bush was "kept in the dark" by the CIA, saying, "I think he knew everything he needed to know and wanted to know about the program." When Baier quoted The New York Times' summary of the report that said Bush "expressed discomfort" over hearing about detainees who were chained to the ceiling and forced to defecate on themselves, Cheney replied, "I've never heard of such a thing."
"I guess partly what really bugs me as I watch all this process unfold," Cheney said, "the members of the CIA did exactly what we wanted to have them to do in terms of taking on this program." Referring to Khalid Sheikh Mohammed, the "mastermind" of 9/11, Cheney asked, "What are we supposed to do kiss him on both cheeks and say 'please, please tell us what you know?' Of course not!"
When Baier pointed out that the report claims the torture techniques were not successful in extracting the information that ultimately led to Osama bin Laden's hiding place, Cheney shot back, "The report is full of crap!"
Later in the interview, Baier noted that the report also states that one detainee died in captivity in November 2002. "3,000 Americans died on 9/11 because of what these guys did and I have no sympathy for them," Cheney said. "I don't know the specific details, I'm sure there were instances cited in the report, I haven't read the report, but I know for a fact —"
At that point, Baier cut him off. "Now wait, you haven't read it?"
"All 6,000 pages? No," Cheney said, before clarifying that he has read "parts of it" and "summaries." From there, he returned to his primary point, this time in the form of a rhetorical question: "How nice do you want to be to the murderers of 3,000 Americans?"
Regardless of what anyone's answer to that question might be, according to the Senate report, at least 26 detainees were "wrongfully held" by the CIA.
Watch video below, via Fox News:
[Photo via screengrab]
— —
>> Follow Matt Wilstein (@TheMattWilstein) on Twitter
Have a tip we should know? tips@mediaite.com