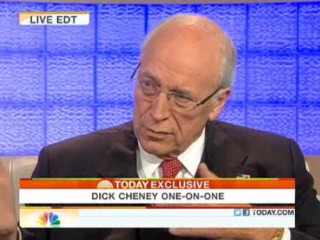 Former Vice President Dick Cheney is, much to the prolonged chagrin of Chris Hayes, continuing on his media blitz in promotion of his memoir. That included a visit to Today, where Cheney told host Matt Lauer that, despite what detractors might say, the war in Iraq was "sound policy."
Lauer kicked things off with a very odd question: Does Cheney think there's something about his demeanor that has people calling him "divisive"? (The correct response is: "Huh?") Lauer then asked whether former President George W. Bush had been privy to Cheney's manuscript before publication, particularly seeing as how there are several instances in the book where Cheney takes credit for decisions Bush had claimed were his. "I did not cooperate or coordinate on our books," he answered. "He wrote his book; I wrote my book. I felt strongly that I wanted to write what I remember about these events, and that's the way both of us function."
After Cheney reiterated the same thoughts on "enhanced methods of interrogation" he's been espousing throughout his promotional media tour, as it were, Lauer asked him whether he was the "driving force" behind the U.S.'s war with Iraq:
I think the President made the decision. He felt strongly about it, too. He understood the dimensions of what we were doing. I certainly supported it, I advocated it, I thought it was the right policy. I believe that still today.
He continued:
I'll tell you what I believe and what I supported, and that was we needed in fact to take the action we did.
Lauer wondered about Cheney's thoughts in light of the fact that this war "severely damaged" our reputation with the rest of the world, particularly given that we were unable to find stockpiles of weapons of mass destruction in Iraq.
I don't think that it damaged our reputation around the world; I just don't believe that. I think critics here at home would argue that, but, in fact, I think it was sound policy that dealt with a very serious problem and that eliminated Saddam Hussein from the problem he presented before.

What would have happened this week if Muammar Gaddafi had still been in power with nuclear weapon in Libya? Would he have fled? I doubt it.
Take a look at the clip, courtesy of NBC:
Have a tip we should know? tips@mediaite.com