Dick Cheney: John McCain Made A Mistake Choosing Sarah Palin For VP In 2008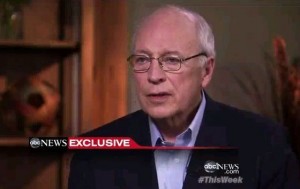 In an interview scheduled to air in full on ABC tomorrow, former Vice President Dick Cheney said that while he personally likes Sarah Palin, it was a mistake for John McCain to choose her as his running mate in 2008 because based on her political background, she was not ready to fill that position at the time.
RELATED: Dick Cheney Talks Thick Skin And Sarah Palin: Doesn't Understand Why She Resigned As Governor
When first prompted by Jonathan Karl about how Mitt Romney could handle the vice presidential search differently from how McCain handled it, Cheney said he thought the 2008 process "wasn't well-handled." Recalling his own experience running the vice presidential selection process, Cheney explained that there are two lists: the big list, which anyone can get on (and, as Cheney revealed, sometimes politicians want to be on the big list just to get a boost in their home state), and the small list, which is more concentrated and focuses on the likeliest candidates.
Karl asked Cheney if reaching out to certain demographics of voters plays an important role in the selection process. Cheney admitted it is a factor, but said it should never be a deciding one. He then addressed the 2008 election and spoke candidly about the choice of Palin to run alongside McCain.
"I like Governor Palin. I've met her, I know her. She's an attractive candidate, but based on her background, she'd only been governor for, what, two years? I don't think she passed that test… of being ready to take over."
Watch the video below, courtesy of ABC:
—–
Follow Josh Feldman on Twitter: @feldmaniac
Have a tip we should know? [email protected]
Josh Feldman - Senior Editor