Dick Cheney On Biden Debate Performance: 'Not The Type Of Personality I'd Like To See In The Oval Office'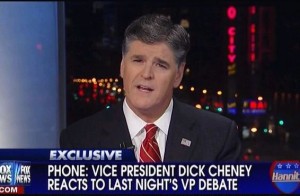 Dick Cheney phoned in to Sean Hannity's show tonight to give his thoughts on last night's vice presidential debate between Joe Biden and Paul Ryan. Cheney panned Biden's performance and attitude throughout the entire debate, saying that Biden is not the kind of person he could imagine being qualified to serve in the Oval Office.
RELATED: Limbaugh On V.P. Debate: 'Biden Personified' The 'Mean, Rude, Disrespectful' Democratic Party
Hannity said he found Biden's behavior last night to be "very disturbing" and "the most emotionally unstable debate performance in modern American politics." Cheney said that he was also disturbed by how Biden acted, saying that a vice president should be more level-headed and that Biden is "not the type of personality I'd like to see in the Oval Office."
Cheney recalled how "volatile" Biden acted when they used to work together on the hill, finding himself wondering why Barack Obama picked him to be his running mate in the first place. Conversely, Cheney said that Ryan definitely "has what it takes" to serve in the Oval Office.
Hannity brought up Biden's statements on the attacks on the U.S. consulate in Benghazi, arguing that the vice president threw the intelligence community under the bus to lie about what the administration knew. Cheney brought up the administration constantly touting the raid that took out Osama bin Laden to argue how the administration has long refused to give the intelligence community its due.
Cheney predicted that Biden's performance was not enough to make up the gap that started to widen following last week's presidential debate.
Watch the video below, courtesy of Fox News:
—–
Follow Josh Feldman on Twitter: @feldmaniac
Have a tip we should know? tips@mediaite.com
Josh Feldman - Senior Editor