Dick Cheney On Hillary Clinton: Perhaps She Would Have Made A Better President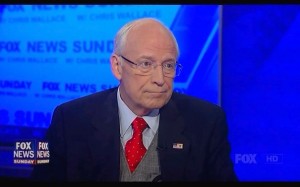 To promote his new memoir, former vice president Dick Cheney has been making the media rounds, discussing the inner workings of the Bush administration and sharing his thoughts on the policies of the Obama administration. On Fox News Sunday, Chris Wallace asked Cheney if he thinks Secretary of State Hillary Clinton would have been a better president than the current officeholder.
Cheney did not say outright that Clinton would be a better president, but thought it was a likely possibility and suggested she might have been "easier to work with" than President Obama.
I have the sense that she's one of the more competent members of the current administration, and it would be interesting to speculate about how she might perform if she'd be president… but I don't want to be in the position where I'm supporting Hillary Clinton. That might be the kiss of death for her.
The vice president said he wouldn't discourage Clinton from running, but insisted his support would be firmly behind the Republican nominee. However, Wallace pointed out that when current GOP frontrunner Rick Perry ran for reelection last year in the Texas governor's race, Cheney threw his support to Senator Kay Bailey Hutchison instead.
Cheney clarified that he has not officially thrown his support by any one candidate yet, before explaining that his endorsement of Hutchison was not meant to be a slight to Perry, but rather as a testament to his close relationship with the senator.
Watch the video here, courtesy of Fox News:
Have a tip we should know? tips@mediaite.com
Josh Feldman - Senior Editor