Dick Cheney Tells Sean Hannity That He 'Worries Very Much' About An Obama Second Term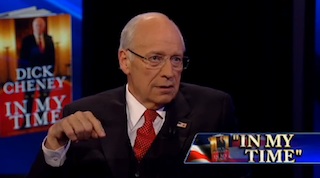 There's nothing better than having your favorite politicians write a book. Not only do you get to spend a few hundred pages living inside their head and finding out what makes them think, but it also means that there's going to be a week leading up to the release where they show up on every talk show ever. Currently making the rounds is former Vice President Dick Cheney and Fox News Insider has released a sneak peek clip and some juicy quotes from his appearance tonight on Hannity.
The interview is being promoted as one in which Cheney "reveals all" which is very exciting. Also, apparently the interview will be done "in front of a LIVE studio audience!" which is great because I've always found Cheney's live stuff so much better than his studio albums.
So what do we have to look forward to that he didn't tell the Morning Joe gang this morning? Well, from the quotes provided, it looks like Cheney says quite a bit about President Obama, not all of it nice.
"Yes, I worry very much about another term. I think it would be unfortunate. Obviously, I'm a conservative Republican. I believe deeply in the free market that made America great, and this administration appears to think only in terms of government and what government can do. We haven't seen the kind of emphasis on growing the private sector that I think is absolutely essential."
Burn!
Check out a clip of the interview from Fox News Insider below:
Have a tip we should know? tips@mediaite.com