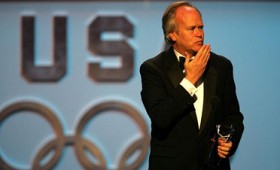 Dick Ebersol has angered ESPN executives for taking a public shot at the network's decision to feature a video with a slurring Jerry Jones criticizing the professional prospects of college star Tim Tebow.
The video was originally obtained by Deadspin on April 13th.
Jones, owner of the Dallas Cowboys, was shown in a bar telling fans that he couldn't draft Tebow, because "he [Tebow] would never get on the field." The grainy video was taken on a cell phone, and Jones was not aware he was being filmed.
Predictably, the video blew up. While it had everything necessary to make it the "viral sports video du jour," it also contained elements that made it sexy in the eyes of the mainstream sports media. Its star, Jones, is the highest-profile owner in sports. It's very possible he was drunk. And he's criticizing Tebow, one of the most polarizing figures to be drafted into the NFL in years.
Still, ESPN would have been considered an unlikely source to feature the video. While the network is no longer confined to reporting on games themselves, something about the video seemed too nosy, too covert, too internety to run on SportsCenter. But that's exactly what happened.
Now, fast forward to Monday night at the 31st annual Sports Emmys. NBC Sports Chair Dick Ebersol presented an award alongside Jones, and things got chippy. Courtesy of John Ourand, Sports Business Journal:
With many ESPN execs, including ESPN/ABC Sports President George Bodenheimer and Exec VP/Content John Skipper, in the audience watching, Ebersol took out a cell phone and pretended to record Jones. He then said, "I just wanted a call out to my friends at ESPN-TMZ." At a party after the event, many ESPN execs were fuming at the remark.
While it's not clear whether or not Ebersol's comments came from a malicious place, according to Ourand, they were interpreted that way by ESPN executives. When we contacted ESPN for comment, they had none.
The network did an interview shortly after they featured the video (and before Ebersol's shot) citing current controversies involving NFL personnel and alcohol as its reasons for deeming the story newsworthy. Pro Football Talk, a website owned by NBC Sports, also reported on the video after Deadspin broke the story.
Have a tip we should know? tips@mediaite.com