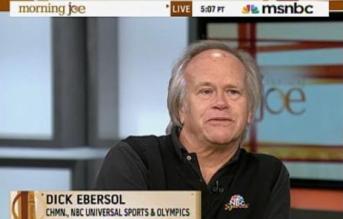 One of the top executives in all of NBCU, Chairman of NBC Sports & Olympics Dick Ebersol, appeared on MSNBC's Morning Joe this morning, and he didn't mince words when discussing two subjects he knows a lot about – late night TV and the Olympics.
The lengthy interview touched on two of the biggest stories in the news: the David Letterman scandal and the failed U.S. Olympics bid.
The interview started with the Letterman story, and whether the CBS host's very public handling was a ratings ploy:
I don't think that was his intent in the beginning, but I think once they saw the tabloid hunger over the weekend, they decided to feed it last night. I'll be surprised to see if it's over as of last night, if just for his monologues. i just wonder what's happening to that apartment up over the studio?
He also had some harsh words for the handling of the Chicago Olympic bid. "Poor intelligence," he said. "On the part of the United States Olympic Commitee, because they are so not wired into the rest of the world."
He described his time on the Congressional committee recently. "We put in what we thought really strong meaningful bylaws, but we didn't do the picking of the people and we are not in a position to do that," said Ebersol. "They pick failed executives from other businesses, they pick people with no experience in that area. It's like television executives!"
Here's the full interview from this morning:
—–
» Follow Steve Krakauer on Twitter
Have a tip we should know? tips@mediaite.com