Dick Morris: Bill de Blasio Would Make 'Very Potent Candidate' Against Hillary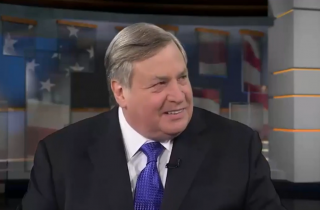 Dick Morris is back in the prediction saddle! During a Monday morning appearance on Newsmax TV's America's Forum, the former pollster asserted that New York City Mayor Bill de Blasio would make a formidable candidate to challenge Hillary Clinton for the Democratic Party's presidential nomination.
Reacting to a New York Post report that Gotham's progressive Mayor de Blasio is positioning himself for a possible run to the left of Clinton, Morris had this to say (emphasis added):
There's a vacancy. There's like an ad on Craigslist, "Wanted: Leftist to run for president as a Democrat." And the left certainly wants one. They are opposed to Hillary on any number of issues. The problem is that nobody of sufficient stature has stepped up top the plate. If de Blasio did, he would make a very potent candidate because I think that he certainly has demonstrated, as mayor of New York, a fidelity to a screwed-up agenda. At least he's faithful to it. And I believe that it's way too early to concede this nomination to Hillary.
Last we heard from Morris, he said he wouldn't be surprised if President Obama resigned soon. Morris was a long-time Fox News analyst until he was disgraced by wrongly predicting a Mitt Romney "landslide" over Obama in the 2012 election — he disappeared off the network for three months thereafter, and then news came that his contract was not renewed.
Watch below, via Newsmax TV:
[h/t Colin Campbell]
[Image via Newsmax TV/screengrab]
— —
>> Follow Andrew Kirell (@AndrewKirell) on Twitter
Have a tip we should know? tips@mediaite.com