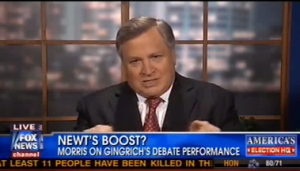 Author and former political consultant Dick Morris visited Fox & Friends this morning to weigh in on the upcoming primaries in South Carolina and Florida. The show's hosts wanted to know, specifically: "Can Newt Gingrich make a comeback?"
Morris thinks the future looks fairly bright for the former Speaker:
Yeah, he sure can. I think Newt could very well win in South Carolina. And if he does, then you have a real contest in Florida and down the road. If Romey wins in South Carolina, this is basically over, because then he'll go on to win in Florida easily and we won't have much to talk about in the mornings.
RELATED: Dick Morris Calls Ron Paul 'The Most Liberal, Radical Left-Wing Person' To Run For President In The Last 50 Years
And then we began to wonder if perhaps Morris hasn't had breakfast yet. He noted that "Gingrich put out red meat" during Monday's debate, but that Rick Santorum had served "white meat of chicken." And, because this was a GOP debate, "no one served pork." Won't someone get this man a Sausage McMuffin?
That said, he expressed hope that Gingrich lay off the negativity where Mitt Romney is concerned, not only because that's not when he's at his best, but also because some Republicans are arguing that he is essentially giving Barack Obama's people ammunition should Romney become the nominee. He added that, now in 2012, Romney's Mormon faith is "forgivable" to voters because he'd be running against Obama this time around.
And, just so you know, he added that he'll be live-Tweeting Thursday's debate.
Check out Morris' analysis, via Fox News:
Have a tip we should know? [email protected]