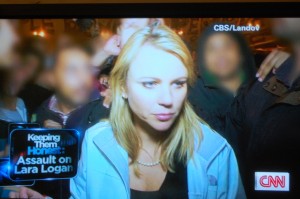 During last night's interview with Nir Rosen on Anderson Cooper 360, Cooper may have conducted an intelligent interrogation of Rosen regarding his insensitive Twitter comments, however, the controversy now bubbling up from that interview has nothing to do with Rosen or Cooper. Instead, the curious alterations made to a photo of CBS' Lara Logan have left some scratching their heads.
In disclosing the information related to Logan's attack in Egypt, CBS released a photo of Logan taken before any harm was done. Most media outlets used the image, as provided from CBS, when reporting on Logan's story. Though last night, CNN producers chose to blur the image of the faces of all the Egyptians surrounding Logan. Scott Collins of the LA Times noticed this and states "by partly obscuring the image, CNN tampered with the journalistic record without explanation, leaving it to viewers to guess whether the network intended to protect or incriminate the figures in the background."
Given that the original picture was widely disseminated, it's odd that CNN felt obligated to protect the already disclosed identity of the Egyptians surrounding Logan. Yet the editorial judgment here to leave out something from a picture, for whatever reasons, seems like it would be more adequately described as "baffling" than necessarily as CNN "tampering."
UPDATE – A CNN spokesperson offers the following statement:
The photo, which CBS said was taken before the attack, was being used on our air as we reported about the sexual assault. We made a network-wide editorial decision to blur the faces of those around Logan because we didn't know if those in the photograph were involved in the attack, or not.
Check out the unaltered picture below, along with the clip from CNN where the censored picture aired: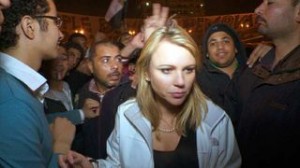 Have a tip we should know? tips@mediaite.com