Did Donald Trump Gesture (Again) to Mockingly Suggest Marco Rubio Is Disabled?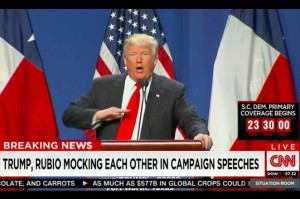 In November, Donald Trump came under fire for what appeared to be a public mocking of a New York Times reporter with a physical disability. As we've seen on the campaign trail from Trump, sometimes the opportunity to land a punch with the crowd at the expense of a rival is too good to pass up, and today in Texas may have been one of those times.
The GOP frontrunner was launching into a hypothetical situation about Florida Senator (and seemingly newest threat) Marco Rubio  having to meet Russian President Vladimir Putin. Trump made a gesture while referring to Rubio, which you can catch in the video below.
Trump began, "We have Putin and Putin's gonna meet our President and let's assume it's Marco [gesture — audible booing rises from the crowd] no, I agree with you!". With a hint of a knowing smile, Trump continued, "We don't want him, 'boo'!".
Some people who caught the move took to Twitter to immediately ask if the gesture was a sneaky mockery of a disabled person at Rubio's expense:
Any one else see the hand gesture by #Trump about #Rubio. I believe he just made a retarded joke about him. He slapped he chest twice.

— Meh (@NotWhitty) February 26, 2016
@CNN @CNNPolitics @cnnbrk
Did Trump make a "I am retarded" gesture in reference to @marcorubio????????

— Ron Ulysses Swanson (@1PoliticalSavvy) February 26, 2016
Trump just made a gesture suggesting that Rubio is retarded. Classy.

— Jamie (@jnuckols2) February 26, 2016
Watch the above video from CNN and judge for yourself.
[image via screengrab]
—
J.D. Durkin is the Senior Editor of Mediaite.
This is an opinion piece. The views expressed in this article are those of just the author.