Did Ed Schultz Edit Megyn Kelly to Make It Look Like She Called Harry Reid a 'Terrorist'?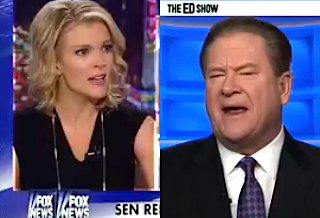 The story of Nevada rancher Cliven Bundy's armed standoff with federal authorities has become one of those seemingly local stories that ends up exploding across national media because of its convenient partisan narrative. While conservative-friendly outlets like Fox News have taken to defending Bundy's right to raise cattle on federally-protected land, liberal ones like MSNBC have taken the government's side, best personified by Senate Majority Leader Harry Reid (D-NV), who has now twice referred to Bundy's supporters as "domestic terrorists."
But with Fox doing so much actual defending of Bundy, did MSNBC's Ed Schultz go too far last week when his show edited a montage of Fox's talking heads to make it look like Fox's primetime star Megyn Kelly thought the "domestic terrorist" comment was better suited to Sen. Reid?
On Friday afternoon, Schultz presented his thesis that Fox News was "rushing to defend" Bundy and his associates from the admittedly inflammatory language put forth by Senator Reid. As a prime example, the host pointed to Dennis Michael Lynch, a filmmaker present at the recent standoff with authorities, who had appeared on Fox's The Kelly File the night before.
In the montage that Schultz aired, Lynch claimed that if there was any "domestic terrorism" happening that the Bundy ranch, it was "perpetuated by the government, not by the people." Shortly after, Lynch can be seen saying it's "disrespectful" for Reid to call other people terrorists and in fact, "he is the terrorist, as far as I'm concerned, in this situation."
Immediately after that statement, Schultz's show cut to Kelly saying, "Mr. Reid is the one who's calling more attention to this. It was over, people were moving on. He is the one who keeps stoking this fire." Taken back-to-back, especially if you don't notice the quick flash-cut between clips, it appeared that Kelly agreed with her guest that Sen. Reid acts like a "terrorist."
But if you watch the actual Kelly File segment in context, without cuts, one finds a very different story. Kelly's statement about Reid "stoking this fire" actually came before Lynch referred to him as a "terrorist." In the original segment on Fox, as soon as Lynch called Reid a "terrorist," Kelly jumped in and said, point-blank: "You don't want to call Harry Reid a terrorist."
Her comment caused Lynch to back off a bit: "I apologize," he replied, "but I'm not going to be afraid of Harry Reid. He's no greater than anybody else in this country."
Watch the MSNBC video below:
And then watch the unedited clip from The Kelly File as it appeared on Fox News:
So, why didn't Schultz include Kelly's line admonishing her guest for calling Sen. Reid a "terrorist?" Well, for one, it obviously didn't fit the narrative he was trying to put forward about Fox's unwavering Cliven Bundy defense. But even if you watch the unedited version of Kelly's clip, you'd come away with the clear conclusion that she's sympathetic to the rancher and not the federal government.
The vast majority of Fox News' coverage of this story, led largely by Sean Hannity and Eric Bolling, among others, has been so one-sided in favor of Bundy that Schultz had plenty of rhetoric to choose from without making this selective edit of Megyn Kelly.
Earlier in the week, Rachel Maddow spent about half of her show making a similar point about Fox's coverage without falling into the dangerous trap of selective editing. When Fox is already so blatantly aggressive on a story like this one, there's really no need to exaggerate.
[h/t The Right Pundit]
[photo via screengrab]
— —
>> Follow Matt Wilstein (@TheMattWilstein) on Twitter
Have a tip we should know? tips@mediaite.com