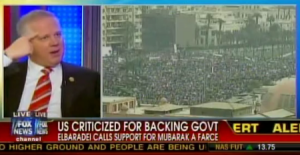 Glenn Beck has had a fairly downbeat view of the turmoil in Egypt, explaining how the fires will spread across the world like the beginning of World War I. He appeared on Fox & Friends to continue his seeming theme of "Why back anyone? They all stink" (paraphrased, of course). He also said a couple of things that many have interpreted as making direct comparison between President Obama and Egyptian President Mubarak.
"Did anybody notice- did anyone notice the remarkable statements from the President last week where the President was saying, 'Look, as long as people are peacefully assembling, they have the right to speak and the government should listen to them.' When he's saying that, all I can think of is the speech where he's walking around going, 'And they're carrying tea bags!' and mocking the American people. And then, while they're pushing for an Internet Kill Switch for the President that does not have judicial review (in fact, it specifically says 'Courts cannot review the decision), while they're pushing for that in our own Congress on Friday, he's telling Mubarak, 'Anyone who's trying to control the radio, television, and Internet, that's the sign of a dictator.' Come on."
Gretchen Carlson agreed that is was an "interesting dichotomy."
While Beck may have an interesting point about the Kill Switch, it should be pointed out that very few tanks and have rolled up to Tea Party rallies.
Check out the video from Fox News below:
Have a tip we should know? tips@mediaite.com