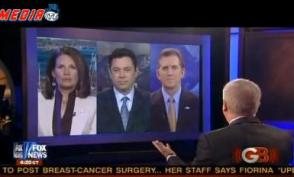 It has become trendy this month to connect cable news interviews with fundraising for specific candidates as the election approaches. It started with Sean Hannity and John Kasich, then transitioned to an examination of MSNBC (and mostly Ed Schultz).
With that in mind, one segment of Glenn Beck's show last night seemed particularly fundraise-y.
Beck's focus on last night's pre-taped studio audience show was about voters and candidates in the 2010 election, a topic that is #1 across cable news, but not always at 5pmET on Fox News. His overriding message throughout the hour didn't divert from his usual independent tone – at one point toward the end of the hour, a promo urged viewers: "Vote Democrat, Republican or Independent. But whatever you do, vote for honor, restoration, the Constitution. Vote for America."
But despite the fact that Beck urged viewers to vote for any party they want throughout the hour, and did not endorse Republicans himself, he had on a panel of GOP candidates for the majority of the show for a frank discussion about issues and more. Beck rarely has guests on at all on his program, but politicians – besides the occasional tickler – are rare on the Glenn Beck Program. His panel, Rep. Michele Bachmann, Rep. Jason Chaffetz and Sen. Jim DeMint, were all Republicans, running for re-election.
Beck asked them all what it is they "need the most." DeMint started stumping. "Through the Senate Conservative Fund, we've picked a number of candidates, and we've asked them to agree to a basic checklist," he said. "That includes no earmarks, balancing the budget, repealing Obamacare, term limits, a few other things are listed on the site…I think we've got the best slate of Republican candidates in the House and the Senate then we've had in years."
"What is the name of that website?" asked Beck.
"SenateConservatives.com," said DeMint, which is only a GOP fundraising site. "Glenn, thousands of Americans have given over five million dollars through that site, and average of $45 a piece, to candidates they believe in." And so on – Bachmann shouted out MichelePAC and her slate of candidates.
The segment closed with a flashback to 8/28, and again, the phrase "Vote Democrat, Republican or Independent, but most importantly, vote for America." Glenn Beck is not Sean Hannity, and he's not full of GOP talking points. But for one segment, his show did provide an outlet for Republicans to connect with viewers, voters…and donors.
Here's the fundaise-ish segment last night, from FNC:

—–
» Follow Steve Krakauer on Twitter
Have a tip we should know? tips@mediaite.com