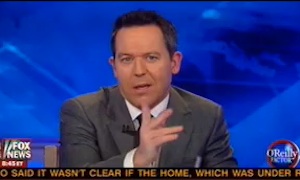 Fox News's Greg Gutfeld tackled the often vexing world of prime time on Tuesday when he tried to fill some big shoes hosting Fox News's top-ranked show The O'Reilly Factor. It was an equal-parts bold and odd choice, putting the network's oft-times unpredictable, distinctly snarky and libertarian-minded funnyman as replacement host of the Fox News flagship program. But would Gutfeld measure as O'Reilly's FNC tent-pole?
RELATED: Red Eye's Greg Gutfeld Tells Mediaite About His CNN Guilty Pleasure…And So Much More
Gutfeld handled the reins of hosting The Factor with aplomb, putting his quick-hit comedic commentary aside just enough to fit in on O'Reilly's self-described "traditionalist" program. At several points during last night's show, the Red Eye host channeled O'Reilly's trademark stone-faced gravitas, for example a point made about youth violence. "I think most of this violence happens because it can. And we have become more permissive and I think, parents and people are scared to confront kids because they fear they are going to get hurt or sued," Gutfeld said in reference to the fights that broke out at the Mall of America. "You know, if you are on a subway, something is happening, you stay away from it because you don't want to be bothered. One of these days you are going to have to step in."
In that moment, Gutfeld quite nearly perfectly captured the O'Reilly ethos of personal responsibility, and communicated it very succinctly. But all the while, he was still very much doing his own thing.
Gutfeld's turn at anchoring a prime time show was remarkable in that he is so often cast as the face of the network's "continued shift on cable to talk about the news and away from actual news reports" — as the New York Times's Brian Stelter had described The Five.
In his turn as prime-time anchor, Gutfeld showed he was quite competent and prepared to take the driver seat in the high-stakes O'Reilly slot and performed well in a hard news capacity. With a sharp performance Tuesday, Fox News higher-ups undoubtedly took notice.
Watch several clips from Gutfeld's command performance as Bill O'Reilly's fill-in below via Fox News:

Have a tip we should know? tips@mediaite.com