Did Megyn Kelly Take a Thinly-Veiled Swipe at 'Pretaped' Hannity and O'Reilly?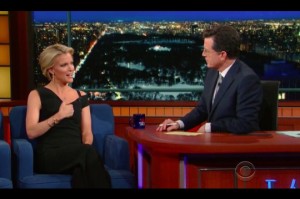 "We'll do it live!" may be one of the most famous outbursts from Fox News' Bill O'Reilly, but according to Megyn Kelly, that's not quite right.
On Sunday night following the Broncos win over the Patriots, Stephen Colbert hosted a special post-game edition of The Late Show on CBS, and Kelly admitted the advantages that she has broadcasting live at 9 p.m., as opposed to her colleagues.
"I think it adds a lot to the show," Kelly began. "If you're not live at night — because the show before me and the show after me are taped — you lose a lot."
Those shows are The O'Reilly Factor at 8 p.m., and Sean Hannity's program at 10 p.m. on Fox News. "You're in an O'Reilly-Hannity sandwich there, and those guys are just phoning it in!" Colbert joked.
While Kelly fell short of admitting that her highly-respected and rated colleagues "phone-in" their shows, she did admit that her 9 p.m. slot benefits from the fact that O'Reilly and Hannity are not live.
"Let's just say they tape earlier in the day which is an advantage to us," she said. The comment landed a bit awkwardly with the crowd at the Ed Sullivan Theater, to which Colbert simply said, "All right, wow, OK" before quickly changing the subject.
Surely Kelly would never go on Colbert's late night program and bash her colleagues at Fox; the three-hour block of O'Reilly-Kelly-Hannity is the highest rated in all of cable news. But we weren't the only ones to notice that Kelly phrased the idea in a strange way, as MSNBC's Chris Hayes (and admitted 8 p.m. ratings foe) took to Twitter to raise the same question:
.@megynkelly kind of (?) throwing shade at O'Reilly and Hannity for taping their shows.

— Christopher Hayes (@chrislhayes) February 8, 2016
Watch the above video from CBS and decide for yourself.
Have a tip we should know? tips@mediaite.com