Did Michele Bachmann Reveal Classified Intelligence During CNN's GOP Debate?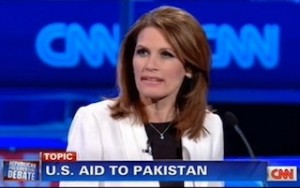 Nothing rings in the holidays better than a somewhat predictable increase of "raising of terror threat" news. So the "national security" focus of Tuesday night's GOP Debate seemed particularly timely on the eve of one of the biggest travel days of the year. And while various campaign managers and political pundits are still to spin candidate performances in the CNN hosted debate, there are serious questions about Rep. Michele Bachmann's seeming revelation of classified intelligence during an explanation on how best to deal with Pakistan's nuclear capability.
The moment in question came after Governor Rick Perry had suggested that Pakistan no longer receive foreign aid since they've shown that they aren't necessarily a friend and ally to the United States. Debate moderator Wolf Blitzer then asked Bachmann if, as a member of the House Intelligence committee, if she agreed with Perry's assessment.
Bachmann's response was a high-point for her in the debate, showing detailed fluency on a sometimes confusing topic of identifying and supporting allies in a region that is also home to many extremist, many of whom have, at least rhetorically, stated goals of doing harm to the United States. But her specific detail raised the eyebrows of many who play close attention to the region when she revealed that Pakistan apparently is home to 15 nuclear sites, and that six attempts have already been made on nuclear sites by what she called nuclear sites jihadists. Claiming that this was more than an "existential threat" she ended with perhaps the best line of the night, saying that Pakistan was "too nuclear to fail."
However! Turns out the details of Pakistan's nuclear capability (and perhaps the number of failed attacks as well) was information that was previously unpublished. As Yochi J. Dreazen points out in a Fact Check post in the National Journal that "Bachmann's comments on Pakistan's nuclear program represent either a news-making leak of previously unknown classified information or another in her recent series of seemingly-random, and highly inaccurate, public comments," later adding that "no U.S. official has publicly said that all of the sites were vulnerable to militant attack or confirmed that any of them had previously come under any form of jihadist attack."
Watch the moment in question below, courtesy of CNN:
(H/T
Gawker
)
Have a tip we should know? tips@mediaite.com
Colby Hall - Founding Editor