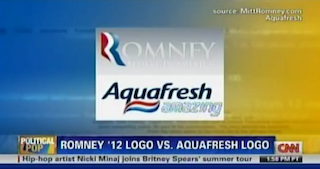 Mitt Romney 2012: Saving America and Fighting Bad Breath!
When Mitt Romney's team designed a new logo for his possible presidential run, they decided to take a page from the Obama book and use the Governor's last initial. However, they probably wanted the color scheme of the R to evoke the American flag and not so much tooth paste. Unfortunately, the instant the logo was released, the Internet was already noting its similarities to that of Aquafresh. CNN picked up the minty fresh scandal this afternoon.
I have to say, I take a bit of offense to the way CNN's Brooke Baldwin and Joe Johns handled this segment. As the guy who's (willingly) opted to be in charge of all of Mediaite's stupider news items as well as the guy who went on TV to talk about Snooki's paycheck, I know a little something about how to do this type of story. You've got to own it, guys! Let the audience tell you what's dumb or not with helpful comments like "This is the stupidest thing I've ever seen" or "Why is this even news?" or "What happened to Mediaite? I used to like this site but now it's all this This Exists crap. You guys should be ashamed."
Ahem. Forget that last one.
Anyway, that being said, I did get a pretty good chuckle out of the utter disdain Johns had as he read the second half of Romney's statement. See? Make fun of the people in your story, not the story itself! That's the trick of good journalism.
Watch the clip from CNN below:
Have a tip we should know? tips@mediaite.com