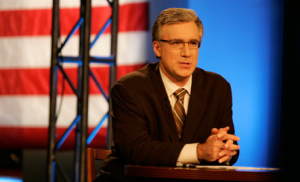 Most of the reporting around the sudden breakup of the MSNBC-Keith Olbermann marriage has focused on Olbermann's apparently well-earned reputation as a difficult employee. He's run afoul of managers in sports and cable news, and when things boiled over to the point–as he gently described it in his farewell Friday night–that it was "more than he could bear," he has a track record of cutting out.

In an insightful column today in the Kansas City Star, Aaron Barnhart argues that while sure, Olbermann's not winning employee-of-the-month paperweights, but he's a huge star and arguably, THE star who embodies MSNBC's current success. Was it destined for a breakup? Not necessarily, says Barnhart:
"Give us a bit of credit for getting eight years out of him," an NBC News exec told the Times. "That's the longest he's been anywhere."

True enough. And yet, count me as one of those people who believes NBC could have had KO a lot longer had it managed him, and its cable news outlet, more coherently.
How could NBC have done a better job of managing its star–and its status as the nation's second-place cable news network (now in danger, with the departure of Olbermann from MSNBC and the arrival at CNN of Piers Morgan whose Piers Morgan Tonight finished ahead of MSNBC's Rachel Maddow all last week)?
Barnhart suggests NBC "blew it" by failing to simply take a page out of the hugely successful Fox News playbook: do news all day, then draw a line in the sand, call it opinion, and let your hosts do what they do best. With some notable exceptions, Fox sticks to that rule (you never saw Bill O'Reilly coming in on a weekend anchor news coverage of the shootings in Arizona, say, as Olbermann did) and NBC makes it messy, with Olbermann and Rachel Maddow taking center stage for election night coverage.
In 2008, when NBC announced it had extended its contract with Olbermann, it was clear the intent was to spread his star-power all over the place, as Brian Stelter wrote at the time in The New York Times:
Mr. Olbermann will continue to anchor "Countdown" and co-host NBC's "Football Night in America." Reinforcing Mr. Olbermann's value to MSNBC, the network said he would "play a prominent role" in "all major news events."
It's easy to understand how the necessity of keeping Olbermann "news ready" would mean keeping a tighter rein on his role as an opinion host, and how that friction could have looked very, very concerning to incoming bosses at Comcast, known as a buttoned-up corporate culture that doesn't sit well with in-house messes.
What if NBC had simply let Keith be Keith, without trying to have him both ways? And perhaps a bigger question: is there a company out there that knows how to handle a talent like Olbermann–and will step up to do so?
Have a tip we should know? [email protected]