Did MSNBC's Hallie Jackson Get Her Mic Cut After Questioning Trump on Russia in Poland?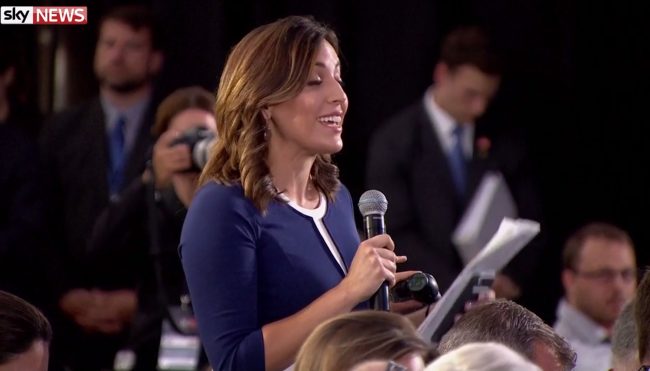 President Donald Trump took a few questions from the press for the first time in a long time in a joint press conference today with Polish President Andrzej Duda. The event concluded with MSNBC's Hallie Jackson asking tough questions to President Trump about Russian interference in the the 2016 General Election. Trump continued to question if Russia acted solely in that effort and wondered just how many US intelligence agencies have claimed as much, before the press conference ended abruptly.
Some have suggested that Ms. Jackson's microphone was cut, suggesting perhaps that the organizers of the press conference were made uncomfortable by the intrepid reporter's interrogation.
Sky News published a breathless headline "Reporter cut off during Trump questions." NY Times reporter Glenn Thrush hit the same note on twitter saying:
Poles cut @HallieJackson off from asking follow up on Trump's Russia question.

— Glenn Thrush (@GlennThrush) July 6, 2017
CNN's Brian Stelter seemed to amplify this concept by retweeting Thrush and adding the following:
When @HallieJackson asked a 3rd Q, announcer said, "Dear lady, two questions. Thank you very much. Thank you very much, must go." https://t.co/eSP5XMR0tJ

— Brian Stelter (@brianstelter) July 6, 2017
So was she cut off? Well yes and no. Yes in that the microphone was clearly turned off because the event ended, but not in the manner that some might read as censorship, however tough her questions may have been.
As you can see in the clip below (courtesy of MSNBC) the announcer clearly introduced Jackson by noting that this would be the last question, adding "very briefly please as the Presidents need to attend a summit in a minute." Jackson did ask two very pointed questions but was then interrupted by the Polish voice who said "Dear lady, two questions. Thank you very much. Thank you very much, must go." So the suggestion that her mic was cut due to tough questions may appear to be true, but it also seems true that the Press Conference organizers were only staying on schedule.
But more importantly, this back and forth puts in stark relief just how starved we all are for tough, fair and respectfully reporting between President Trump and reporters who aren't willing to lay down and promote only the President's agenda.
Hallie Jackson deserves a ton of credit for fearlessly asking tough questions — on foreign soil no less — in a prime example of speaking truth to power in a smart and respectful manner. If only someone of her talent was given more time with the President. If only.
Have a tip we should know? tips@mediaite.com