Did MSNBC's President Phil Griffin Not Know What He Had Till Ed Schultz Was Gone?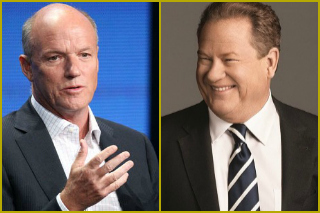 A lot of attention has been paid to MSNBC's apocalyptic post-election ratings dive, as media critics wonder aloud just what has gone wrong over at 30 Rock. Here at Mediaite, my colleague Noah Rothman wrote a provocative piece dissecting a major part of the network's woes, the ratings challenged new prime time anchor Chris Hayes. Since taking over the coveted 8 pm slot in April, All In with Chris Hayes has driven a large portion of the audience out, with anemic ratings in April resulting in an 18% drop in total viewers compared to the same time the year before. May was even less kind to Hayes and MSNBC, resulting in the dubious distinction of the worst 8 pm ratings since 2006.
Whether or not a rocky two months is a long enough time to fairly assess Hayes, there is one personality who we've had a much longer period of time to judge, an MSNBC personality that might be keeping network President Phil Griffin up at night, sweating like a young romantic regretting a breakup while wondering if there just might be something to that whole not knowing what you got till it's gone thing.
Disregarding whether you love or hate "Big Eddie," from a network ratings point of view, Schultz was delivering the goods while occupying the anchor chair for only a year and a half. For the third quarter of 2012, he fell slightly short of a million total viewers per night, and had even occasionally beat network superstar Rachel Maddow and the rest of his MSNBC colleagues in primetime.
Maybe more important than ratings, Schultz became a stabilizing figure for the vital 8 pm slot in the wake of network nightmare Keith Olbermann's sudden departure and the failed attempt to morph Lawrence O'Donnell into a bombastic bomb thrower. Sure, those fun Spike Lee "Lean Forward" commercials have helped MSNBC market its talent (and occasionally stir up controversy), but after a decade-long network identity crisis, Schultz's fiery barn-burning style helped MSNBC find its brand as the cable voice for the progressive movement, more specifically as the champions for a middle class under attack. Just as important as his own show, Schultz was serving as a strong lead-in to the aforementioned Maddow, as she continued topping the ratings chart for MSNBC while also occasionally beating Fox News and CNN in the all important 25-54 demo.
So, looking at the post-Schultz primetime metamorphosis with the simple eye test, composed of a Hayes/Maddow/O'Donnell lineup that appears eerily similar to one another in topics and tone, and a surplus of wonk and civility rather than fireworks and occasional shouting, a simple question must be raised.
Why in the world did Phil Griffin get rid of Ed Schultz? (Excuse me, accept Ed's "request" to move to weekends so he can have more time to fish and be out "talking to the people" during the week.)
You had an anchor occupying the chair for less than two years, garnering solid ratings, with the presumable chance to make even more gains with 2014 midterm coverage right around the corner, and of course presidential election coverage starting earlier and earlier each cycle. Bigger picture, looking at the results of the 2012 election, you have a country moving considerably more left of center, with the most popular liberal radio host in the country manning your most important hour.
This is not as much an indictment of Chris Hayes, a talented and engaging host, who excelled in a more laid back and substantive weekend format his former show Up allowed. It is also not a cheerleading session for Schultz, who as talented and inspiring to liberals he can be, could just as easily be viewed as predictable and hyperpartisan. Instead, it is a basic acknowledgment of what works at 8 pm on cable news. It might not make the most uplifting of pronouncements, or be what I or other media reporters prefer watching, but what has worked as the holy grail of cable news for over a decade are passionate, bombastic hosts serving up political red meat to their audience that satisfies and substantiates their already established political views.
Unfortunately, the guy who was doing that well for MSNBC is now stuck on the weekends, going off in segments like this, where he attacks GOP infrastructure spending obstruction, only now to a much smaller audience.
For Griffin, it seems evident that the simple "if it ain't broke don't fix it" model applied here. Was Schultz anywhere near Fox News behemoth Bill O'Reilly? No, not even close. But neither was former network star Keith Olbermann, or current one Rachel Maddow. And although Griffin has recently boasted about beating Fox News by 2014, reality suggests no MSNBC host will be threatening O'Reilly or Fox News primetime dominance until the former decides to exit the No Spin Zone.
But by dropping Schultz, a move that resulted in his third 8 pm host in just two and a half years, Griffin unnecessarily rattled a brand that was moving in an upward trajectory. Sure, that upward pattern was spearheaded by an exciting election year, but by miscalculating the desire for substantive and informative news at 8 pm, Griffin's decision to go "All In" leaves MSNBC's most important hour teetering on folding.
Barring a personality transplant (that he shouldn't have to embark on), staying with Chris Hayes probably will continue to yield declining or stagnant ratings. Making a change to a more Schultz-like personality might work, but would come off as a panic move this quickly into the Hayes era. Could Griffin throw out the ego necessary to reach his position and yank Ed off the fishing boat and back into the primetime chair during the week?
There is a more likely chance of this author getting the primetime nod than Schultz getting it back.
Which leaves Phil Griffin left with a choice—preach patience and continue rolling with Hayes, or acknowledge he made a mistake and shake things up once again.
A tough decision indeed, having long term ramifications for a network stuck at a crossroads of breaking out or falling back to fourth place.
One things for sure: Griffin's network was closer to the breakout than breakdown with Schultz at 8.
Have a tip we should know? tips@mediaite.com