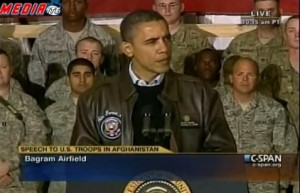 President Obama was in Afghanistan today for a brief and surprise opportunity to meet American troops on the ground in the war torn region, as well as an opportunity for private talks with Gen. David Petraeus. During his speech at Bagram Air Base, Obama thanked members of the military on behalf of the American people, and also found time to take a shot at an "institutions (that) seem to be shirking their responsibilities." Snap?
Writing for CBS News Political Hotsheet, Brian Montopoli reports:
The president said the assembled troops, largely from the 101st Airborne Division, "are part of an unbroken line of Americans who have given up your comfort, your ease, your convenience for America's security."

"The freedom, the liberty that we treasure, that's not simply a birthright," he said. "It has to be earned by the sacrifices of generations; generations of patriots, men and women who step forward and say, send me."

"In our time, in this 21st century when so many other institutions seem to be shirking their responsibilities, you have embraced your responsibilities," he added. "You have shown why the United States military remains the most trusted institution in America."
There is no question that President Obama has been in a fiercely partisan battle between his Republican adversaries who have been lauded by supporters for stopping legislation they see as bad for the country, and derided by detractors who have labeled their strategy as the "audacity of nope." And while Obama said all the right things in thanking the troops for risking their lives in service for their country, one can legitimately question whether a speech to troops serving in a theater of war is the appropriate time to make a political point, even if its as thinly veiled as this.
Watch the clip from C-Span below:
Have a tip we should know? tips@mediaite.com