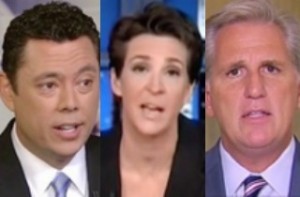 It's not a surprise to see MSNBC host Rachel Maddow digging in at the expense of high-ranking Republicans on her nightly show; she is, after all, unapologetically left of center, and often her talking points go unanswered by Republican leadership.
However, it would appear as if her recent humorous criticisms of potential new Speaker of the House Kevin McCarthy have worked their way to the ears of upstart challenger Jason Chaffetz.
Maddow last week devoted several segments to McCarthy's myriad of verbal flubs within the first few days of his visible candidacy for Speaker. Maddow hammered a McCarthy quote that came from a blundered foreign policy address last Monday, where he said, "Those who return home are being disrespected by the VA that can't keep the simple promise to all of our heroes to the need when they need it most."
That's not a typo, and Jason Chaffetz knew it instantly.
Maddow wouldn't relent throughout much of last week, laughing her way through segment after segment revealing the struggles that McCarthy's had when in front of a microphone. "He is about to be Speaker of the House," added Maddow, horrifyingly.
She presented more McCarthy-isms like "The absence of leadership over the past six years has had a horrific consequences all across the globe" and this exact quote to Fox News' Brett Baier: "It's been a setback, yes, because I do not want to make that harm Benghazi committee in any way."
Sic erat scriptum: "thus was it written".
Since declaring that he will challenge McCarthy for the Speakership, Chaffetz took brief aim at the same trips of the tongue that Maddow delivered to a national audience. Chaffetz noted, "We need a speaker who speaks… We lose the communication war time and time again, and I think the conference wants a proactive communicator."
There is no doubt that in last week's cable news cycle, Maddow was the driving force in revealing how McCarthy — who has been walking back his comments tying Hillary Clinton's poll numbers to the Benghazi Select Committee — is an ineffective communicator. Maddow actually lost it at one point, clearly overcome with fits of laughter; she hopped all over McCarthy when he detailed the places that he had visited and identified a country as "Hungria". If you do a Google search for "Hungria", it asks you if you'd like to translate the page from Portugese.
Chaffetz has only hinted at McCarthy's conversational issues, holding back from a full-on assault on the potential Speaker's ability to, well, speak. Chaffetz continued that McCarthy is a "good man" who has a "math problem" regarding garnering enough votes to replace John Boehner.
However, math is not the elementary subject that most jeopardizes McCarthy's bid, and both Maddow and Chaffetz know it. Chaffetz seems to have a mastery on public speaking, and is putting himself out there with frequent cable news appearances daily.
The iron may be hot enough now for Chaffetz to strike; he is getting plenty of airtime these days on his own, first in regards to a privacy breach from the Secret Service. Last week, Chaffetz was also as the center of the Planned Parenthood hearings, where he passionately grilled president Cecile Richards and aired further grievances on CNN. It seems as if he is arguing that his abilities to stand and deliver are most advantageous to the purposes of the House of Representatives; if so, he would benefit from keeping an eye on MSNBC weeknights at 9 PM.
[image via screengrab]
—
>> Follow J.D. Durkin (@MediaiteJD) on Twitter
Have a tip we should know? tips@mediaite.com