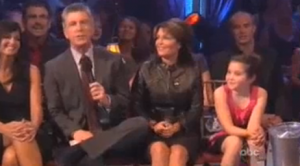 Well, that was odd. During tonight's episode of Dancing with the Stars, Sarah Palin made a surprise appearance as "special guest commentator" and supporter of her daughter, Bristol. Sitting with her second youngest, Piper, Palin cheerfully explained how much she was enjoying seeing the competition. However, it seems that some in the audience may not have been enjoying seeing her as a loud series of boos accompanied her appearance.
The boos actually came right before she appeared on camera, presumably while she was taking her place. Jennifer Grey and her partner Derek Hough were discussing their dance as the boos began from the other side of the hall. The contestants looked around anxiously, clearly worried that the vocal displeasure was being made in their direction. It was hushed, however, right before the cameras switched and we saw the former governor. Still though, the audience members behind Palin looked slightly uncomfortable.
The booing may have been for Grey's scores, we can't tell. If it was for Palin, we've gotta say, come on, folks. Can't we all just get along and enjoy some dancing? And some stars?
UPDATE: Scott Collins at the LA Times reports that ABC has claimed that the booing was not directed at Palin:
But ABC says the booing wasn't directed at Palin. Instead, the crowd was upset that Jennifer Grey, the former "Dirty Dancing" star who performed immediately prior to Bristol Palin, got only a trio of 8s from the judges even though the routine she did with partner Mark Ballas was a clear audience favorite.(They might have spared themselves the trouble, as Grey emerged with the evening's top score anyway.)

"They were just expressing their feelings about a really, really good dance," a network spokeswoman said. "It's not at all unusual."
(via Gawker)
Have a tip we should know? tips@mediaite.com