Did SCOTUS Declare All Gay Marriage Bans Unconstitutional? Anti-Prop 8 Attorney David Boies Says Yes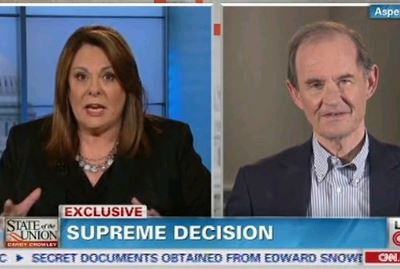 David Boies, one of the attorneys who successfully argued the case against California's Proposition 8 in the Supreme Court, told CNN's Candy Crowley on Sunday that the Court's ruling in the case against that state's gay marriage ban is not the narrow ruling that some have interpreted it to be. In fact, Boies said that the Court effectively ruled that all gay marriage bans in America violate the 14th Amendment and are unconstitutional.

Crowley asked Boies about his plans, in the wake of the Supreme Court decision on Prop 8, to expand gay marriage rights to all 50 states.
"First, remember that that the United States Supreme Court found that the plaintiffs in this particular case had standing to attack Proposition 8, but the people who were supporting Proposition 8 did not have standing to appeal our victory in the trial court," Boies asserted. "So that reinstates the trial court decision that says that all bans on gay and lesbian marriage violate the equal protection and due process clauses of the 14th Amendment."
RELATED: 'Judicial Tyranny': Anti-Gay Marriage Lawyer Rails Against Gay Marriage Rulings On CNN
"But you know, David, a lot of people thought that this was more about states' rights," Crowley countered, "allowing the states to decide for themselves."
"If they were allowing the states to decide for themselves, they would have allowed California to decide for itself," Boise declared. "California passed Proposition 8. So, what the Court was doing was invalidating California's choice, and that's exactly what the courts are supposed to do under the 14th Amendment."
Boies said that the 14th Amendment was passed to protect the rights of citizens to be free from discrimination. He said that a legal blitz will begin in all 50 states to assert that the Court declared that all gay marriage bans or anti-gay marriage laws are unconstitutional.
"It's terribly important that we extend the promise of equality that the Supreme Court and the district articulated in the DOMA case and in the Perry case to all Americans in all 50 states," Boies concluded.
Watch the clip below via CNN:
> >Follow Noah Rothman (@NoahCRothman) on Twitter
Have a tip we should know? tips@mediaite.com