Did Shep Smith Suggest That The White House May Have Manipulated Speech Night?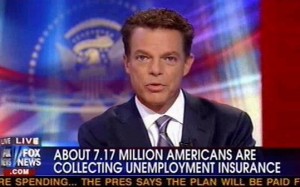 In the event that anyone was wondering why the Republican party did not put forth an on-camera response to President Obama's job speech tonight, Fox News anchor Shepard Smith explained much of the last minute schedule changes the led to the GOP to only issue a written statement from Speaker Boehner's office. In doing so, Smith seemed to insinuate that the White House might have manipulated the evening to squeeze out the GOP response, before praising them for an effective job of doing it.
Here is the big picture on all of this. You may have noticed there is no Republican response on camera. Right? Why was that? Remember the speech was supposed to be yesterday and then there was something or other that happened with the Republicans and the White House that's murky, depending who you talk to. Then the speech was tonight. Football begins on another network in a few minutes. So there might not have been time. The last thing the Republicans want to do is stepping on the first game of the football season.

So the president comes out and just before this speech, the White House sent out an advisory to all of the news media that this would last 43 minutes without applause. Didn't start 'til 9 minutes after the hour. That's not what happened. This speech lasted 32 minutes and 43 seconds. Total, including applause. Which leaves us all this time to talk at the end. We give analysis and the White House puts out about a credible threat and now we've gotten word from our producer on capitol hill that Eric Holder will be sending out a bulletin on this shortly.

Producers love to produce programs. White Houses love to produce evenings. They produced this evening and it appears to me from their perspective, they might have done an effective job of it.
After Shep described the events, guest Gerri Willis asked "are you feeling manipulated?" before other guests tipped their hat at the choreography of the evening.
Watch the clip below, courtesy of Fox News:
Speaker Boehner's statement:
"American families and small businesses are hurting, and they are looking for the White House and Congress to seek common ground and work together to help get our economy back on track. Republicans have laid out a blueprint for economic growth and job creation – our Plan for America's Job Creators – that focuses on one thing: removing government barriers to private-sector job growth.

"The proposals the President outlined tonight merit consideration. We hope he gives serious consideration to our ideas as well. It's my hope that we can work together to end the uncertainty facing families and small businesses, and create a better environment for long-term economic growth and private-sector job creation."
Have a tip we should know? tips@mediaite.com