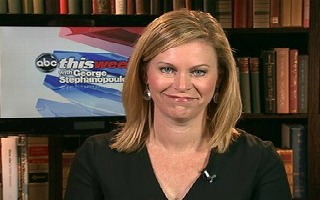 In case you haven't seen the video, watch it. Drink it in. Obama campaign Deputy Communications Director Stephanie Cutter, in a craven and flailing attempt to salvage the White House's ebbing credibility surrounding their response to the 9/11/12 attacks in Libya, said that it was her estimation that the attacks were only an issue because Mitt Romney and Paul Ryan made it one.

In effect, Cutter said that this attack, one of the most comprehensive and successful Al Qaeda attacks on American assets since September 11, 20001 in which an American ambassador overseas was killed for the first time since the Carter administration, was only on the media's radar because it is an election year. Stephanie Cutter has just provided Mitt Romney a stronger argument against President Barack Obama's handling of foreign affairs he could have hoped for. In a single bound, Cutter revealed the administration's thinking about how to respond to this deadly attack – it is not about American security, it is about politics. Fair or not, that is how Romney will frame Cutter's glib remark.
Stephanie Cutter must have known that the administration has been under fire for sending out high level officials to disseminate information about the origins of that attack that they were aware at the time was false. Cutter must have known that the State Department is in the hot seat for ignoring consulate and embassy requests for more security and reallocating assets that could have aided those threatened diplomatic officials elsewhere on the globe. There is no way Cutter could not have known that she was simply unqualified to discuss matters of national security or the president's response to threats posed by global terrorism in North Africa and the Middle East.
But she ignored all that when she jumped out in front of the issue and brazenly accused the Republican ticket of politicizing the attack in Libya. She then dared to suggest that Romney criticized Obama on the Libya attacks before he had enough information. Even if he did, events have vindicated him. Cutter is a few news cycles behind the rest of us.
One of the president's chief spokespeople has now handed a weapon for the foreign policy debate on October 22 that he could never have dreamed of having. Cutter has created a victim of Romney – a martyr, accused of politicizing an event when he is, as I expect him to say, seeking answers about a mishandled tragedy for the American people. He will cite the grieving families of the victims of that attack and the millions of Americans who are now threatened by an emboldened and resurgent Al Qaeda. Romney will be righteous and he will be justified in that righteousness.
The Libya issue has already decimated how American's view Obama's handling of foreign affairs — once a strong suit of the president. Two months ago, the Chicago team probably thought they could walk through the foreign policy debate. Now, less than a week and a half before the final presidential debate, Obama's own staff may have already lost it for him.
> >Follow Noah Rothman (@Noah_C_Rothman) on Twitter
Have a tip we should know? tips@mediaite.com