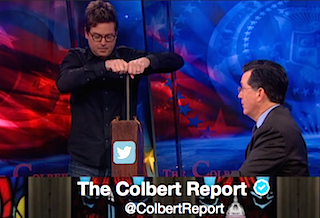 The #CancelColbert saga came to a head last night when Stephen Colbert dedicated almost all his show to this past weekend's campaign to have his show removed from the air due to a piece of satire that involved the Washington Redskins and the host's Asian stereotype character "Ching Chong Ding Dong." While the show's opening segment was definitely epic in its own right, it wasn't until Colbert brought out Twitter founder Biz Stone that things really got interesting.
Colbert did not get the apology he expected from Stone, but he did get help in another way. As the host has explained throughout this brouhaha, both on Twitter and last night on TV, @ColbertReport, which sent out the tweet that started the #CancelColbert firestorm is run by Comedy Central and not Colbert himself. It is this distinction that Colbert has used to take some of the heat off of himself.
To remedy the situation and remove any and all confusion, Stone pulled out his Twitter "kill switch," which he proceeded to use to delete the @ColbertReport account once and for all. Colbert sent out one last tweet directing users to follow his Twitter handle @StephenAtHome before allowing Stone to kill the offending account. And just like that, @ColbertReport, which as of yesterday had over 1 million followers was gone: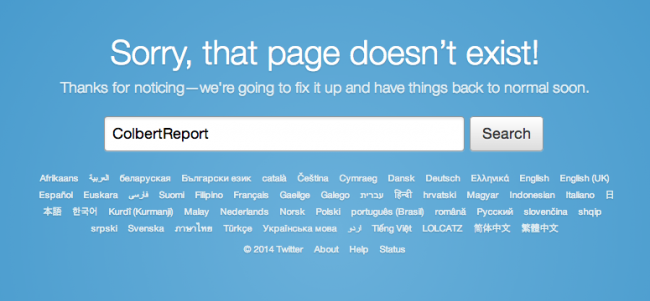 @StephenAtHome remains active with its 6.14 million followers intact, but historically at least, the account has served a very different purpose from @ColbertReport. Colbert's personal account has mostly featured jokes with occasional plugs for The Colbert Report. By contrast, @ColbertReport served as the show's marketing arm on Twitter, sending out links to segments, promoting upcoming guests and more. It more or less followed the same format as @TheDailyShow Twitter account. Ironically, it was when @ColbertReport attempted to post the out-of-context "Ching Chong Ding Dong" joke in the voice of Colbert and without a link to the related video segment that the controversy began:

As Colbert's reaction to this entire story reveals, he clearly was not happy with the @ColbertReport Twitter account's attempt to represent his point of view without his oversight or permission. But was the best solution to this problem really deleting the account altogether? @ColbertReport served an important promotional purpose for the show and unless @StephenAtHome starts picking up where they left off, which as of today has not been the case, then The Colbert Report's online presence will likely suffer.
Colbert evidently wants to eliminate the inherent confusion of having two official Twitter accounts, but by deleting @ColbertReport, he is in some way admitting defeat. If @jimmyfallon and @FallonTonight, @jimmykimmel and @jimmykimmellive, and @billmaher and @RealTimers can all co-exist, then Colbert could have figured out a way to make this work. The internet failed to #CancelColbert, but they succeeded in killing @ColbertReport.
We have reached out to Comedy Central for a statement on the decision to delete @ColbertReport and will update this post with accordingly if and when they get back to us.
Watch video below, via Comedy Central:
[photo via screengrab]
— —
>> Follow Matt Wilstein (@TheMattWilstein) on Twitter
Have a tip we should know? tips@mediaite.com