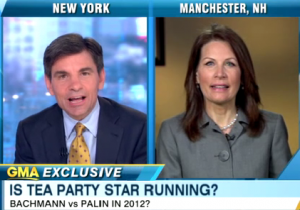 Is Congresswoman Michele Bachmann trying to grab some of the spotlight back from her "friend" Sarah Palin? This morning on GMA, she told George Stephanopoulos that next month in Waterloo, Iowa she will be making an announcement. Stephanopoulos rather obviously concludes that you don't go to Iowa to announce you're not running for President, instead turning his focus to Bachmann's thoughts on Palin. At the end of the segment, however, Bachmann may have let slip her true intentions.
Stephanopoulos tried his hardest to get Bachmann to distinguish herself in some way from Palin. When he asked whether there is enough room in the presidential race for both women, Bachmann replied "oh sure" and suggested:
"I like Sarah Palin a lot. We're friends. I don't consider her a competitor, I consider her a friend."
Although not considering Palin a "competitor" could be Bachmann's conclusion that she doesn't think Palin is really running, and thus is moving full steam ahead herself.
Even more evidence that Bachmann is seriously going to run is that on the subject of Congressman Paul Ryan's Medicare plan, Bachmann said she supported Ryan's efforts but hesitated to endorse the plan completely (despite voting for it in the House "with an asterix"). Finally, Bachmann basically admits that her family is very supportive of her running and says that after 29 years of parenting, her last kid is now graduating high school and soon all her kids will be out of the house. Stephanopoulos jokes in response, "one solution to the empty nest is to run for President." Bachmann's response? "I guess so."
Announcement in Iowa scheduled? Check. Hesitation to go too far out on a limb reforming Medicare or attacking other Republican candidates? Check. Family approval for a campaign? Check. Short of using the word "official," this is about as clear an indication as possible from Bachmann of her intention, so it looks like the "official" Republican field is definitely going to shake up soon.
Watch the clip from ABC below:

Have a tip we should know? tips@mediaite.com