Disagree with Nancy Grace's Anti-Pot Crusade? Well, You're Just 'Fat and Lazy' Stoners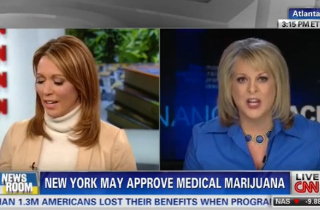 Look, I've had ample time to conclude HLN anchor Nancy Grace can be pretty excruciating to watch on cable news (low bar). When she's not blowhard-ing it up about how almost every criminal defendant is guilty, she's beclowning herself on-the-air with supposedly "serious" takes on criminal justice mixed with a heavy dose of shtick. Or, as we saw today, she is offering reductive opinions on political matters of the day, almost always leaning in favor of the ham-fisted arm of the state.

CNN decided to interview Grace on Monday afternoon during a segment on legal marijuana, because sure why not? The results: Grace spouted off ominous warnings about the "horrible idea" to legalize a drug less addictive than alcohol before labeling critics "fat and lazy."
Claiming she has read "every shred of scientific research data out there" (haha, sure), Grace told host Brooke Baldwin that marijuana destroys people's lives because she's seen users in court while prosecuting drug cases. Of course, she failed to note that maybe those lives were ruined by the fact that they are caught up in a justice system prosecuting and destroying the lives of adults committing the non-violent offense of smoking a drug.
Rattling off every stereotype about weed making people "lethargic" and dropouts, Grace railed against the potential for drivers, pilots, and babysitters to be stoned. Once again, this ignores that driving under the influence is still illegal and her argument completely skirts any discussion of the drug war's costs and consequences. But, hey, this is Nancy Grace and I feel myself inching closer to madness just for writing this post.
But bear with me just one more moment, for the best part of all came next:
When Grace suggested that Colorado voters will "deserve" any DUI deaths it gets in the wake of legalizing pot, an all-too-polite Baldwin noted that there are likely thousands of people at home disagreeing.
And then Grace said this:
"Hey, look, the ones that are disagreeing are lethargic, sitting on the sofa, eating chips. Pot makes you fat and lazy. There. Fat and lazy."
Smart take.
Watch below, via CNN:
— —
>> Follow Andrew Kirell (@AndrewKirell) on Twitter
Have a tip we should know? tips@mediaite.com