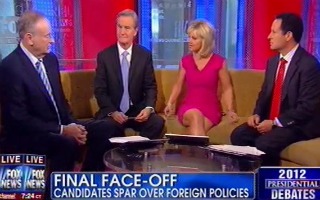 Following his prediction that Mitt Romney could win the election in last night's debate if he delivered a decisive win, Bill O'Reilly appeared on Fox & Friends where he was asked if the Republican presidential nominee delivered enough on the debate stage to secure the election. O'Reilly said that he did not think Romney delivered a victory in the debate last night and the election remains up for grabs.

RELATED: Neil Cavuto: Mitt Romney 'Botched A Lot Of Things Tonight'
"So, was it decisive for you," Gretchen Carlson asked.
"No," O'Reilly said. "He didn't win the debate."
"So, President Obama won the debate," Carlson suggested.
"No," O'Reilly shot back. "Nobody won."
"It was boring. It was so boring. It was the most boring debate I've ever seen," O'Reilly said. "The American people were the losers. We didn't get anything out of that."
O'Reilly said he was disappointed that Mitt Romney failed to engage the president on the issue of the attack on an American consulate in Libya. He said that it was possible that Romney was avoiding conflict to appeal to women and undecided voters, but it was still a missed opportunity not to go after President Barack Obama.
"Because women don't like confrontation," O'Reilly added.
"Well," Carlson said.
"Romney didn't do anything," O'Reilly concluded. "Nothing."
Watch the clip below via Fox News Channel:
> >Follow Noah Rothman (@Noah_C_Rothman) on Twitter
Have a tip we should know? [email protected]