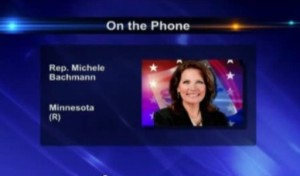 In what prominent Iowa Republicans are calling an "embarrassment" and a "disaster," undeclared GOP presidential hopeful Rep. Michele Bachmann (R-MN) canceled a keynote appearance at a fundraiser, appearing instead via a "fuzzy Skype-style" video link. While some attendees were understanding, the Iowa Republican was brutal in their review of Bachmann's appearance, and her chances in Iowa. (h/t C&L)

Bachmann missed the event in order to vote on the extension of The Patriot Act, but as the local news notes, the measure passed the House by a wide margin, so her vote was far from essential.
In a local television report, attendees were disappointed, but forgiving, of Bachmann's no-show: (from ABC5)
However, the conservative Iowa Republican all but declared Bachmann's chances in Iowa DOA, delivering this brutal summation: (emphasis mine)
Bachmann will now be at a disadvantage in Polk County.  She did not just skip the county fundraiser.  People can forgive that, especially for an important vote.  But Bachmann's political organization stiffed the Polk GOP on $2,250 worth of tickets.  She gave a horrendous presentation.  She seemed oblivious to Donald Trump reneging on an important Republican fundraiser, while she was doing the same.  She even played the victim card at one point, saying she was a target of death threats during her time in the Minnesota senate.

Nothing about Michelle Bachmann seemed presidential Thursday night.  Many people thought Newt Gingrich sunk his campaign in the week after his presidential announcement.  Bachmann might have dealt a fatal blow to her campaign before she announces.
Chances are they didn't leave a tip, either.
Bachmann was born in Iowa, so a poor showing there could definitely be a death blow to her (still undeclared) candidacy, but the Iowa caucuses are a long way off. Being a native of the state, coupled with a penchant for energizing just that kind of evangelical-heavy conservative crowd, could offer Bachmann a chance to charm her way past this misstep.
On the other hand, Iowans are a stubborn lot, if you believe the movies (also, they're oddly phobic of pocket billiards, and easily impressed by an array of trombones), so Bachmann's first insult to Iowa could also be her last.
Even that, however, wouldn't necessarily kill her chances. Bachmann has energetic support from Tea Partiers, in stark contrast to a Republican field that would have trouble energizing a solar calculator, so her national appeal with the Republican base could help her survive a defeat in the first-in-the-nation contest.
Have a tip we should know? tips@mediaite.com