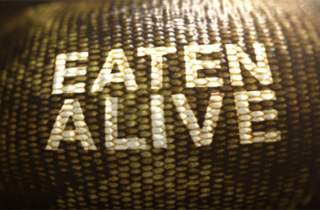 After a year of disastrous television at the Discovery Channel, which gained a reputation for airing factually-misleading documentaries about mermaids, prehistoric sharks, and snakes eating dudes, the channel's new chief made a public promise: no more of that.
During the Winter TV press Tour 2015 on Thursday, Discovery's brand-new chief, Rich Ross, promised to stop running programs such as Eaten Alive and Megalodon, which drew huge ratings and scorn for its false claims. (Like, remember when the guy wasn't actually eaten by an anaconda?)
"It's not whether I'm a fan of it," Ross said according to Deadline. "I don't think it's right for Discovery Channel, and think it's something that has run its course. They've done very well… but I don't think it's something that's right for us."
To prove that he was serious, he announced the appointment of HBO's John Hoffman as Executive Vice President of Documentaries and Specials. "This was not just a signal, it was a message that it's very important to us," he said, "and to me, that when people are telling stories and they're delivering information that it is true and can be entertaining as well, which is mandatory."
He even apologized for Eaten Alive. Really. Reports Deadline:
Discovery's recent, critically reviled Eaten Alive, was "the right intention, with a packaging that was deeply misleading," Ross said. Its star and would be snake snack, tour guide/snake enthusiast Paul Rosolie cares deeply about snakes and wanted to draw attention" to them, Ross said generously; TV critics who thought Rosolie cared most deeply about promoting Rosolie let that slide too. "To me you don't have to be so sensational, and over-promise," he said of that show. "The fervor of that story kind of got out of control." Ross said he'd rather program a special in which "the story is clearer and it is what you want to watch but you don't expect something at the end of it that can't possibly happen."

"I don't believe you'll see a person being eaten by a snake in my time – I can't over-promise that, but that's how I feel today," Ross said, as TV critics resisted the urge to give him a standing ovation.
So far, he hasn't apologized for the egregiously wrong Megalodon, but as long as he repairs the reputation of the degraded quality of Shark Week, we'll be okay.
—
>> Follow Tina Nguyen (@Tina_Nguyen) on Twitter
Have a tip we should know? tips@mediaite.com