'Disgrace': MSNBC President Phil Griffin Slams Fox News For Not Broadcasting Obama's Gun Speech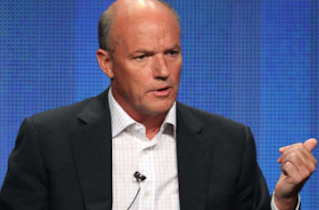 After the Senate failed to pass a measure that would expand background checks for gun purchases, President Obama gave an impassioned, angry speech, declaring the hurdle to just be "round one." Those watching Fox News, however, may not have heard the president's remarks because, unlike other networks, Fox News did not broadcast the statement live. MSNBC President Phil Griffin was quick to criticize.

In addition to CNN and MSNBC, Griffin noted to New York Times' Brian Stelter that ABC, CBS, and NBC broke in with special reports, signifying that Obama's remarks held that degree of importance. It was "a disgrace," Griffin said, for Fox to skip it.
Incidentally, Greg Gutfeld, co-host of Fox News' The Five, remarked on the network's coverage (or lack thereof) of Obama's speech.
When the Obama statement was cut off after a few seconds, Mr. Gutfeld appeared surprised by the control room's decision. "I want to apologize," he said at the end of the hour. "I think that should have been handled better."
Fox News' executive vice president of news, Michael Clemente, released the following statement explaining the decision:
"Fox News has reported all sides of the gun debate — at length since well before the tragedy in Newtown, and we will continue to do so. Yesterday's decision not carry the president's statement live, was made when we received the following from the White House press office 'THE PRESIDENT delivers a statement on common sense measures to reduce gun violence.' We've carried and reported on numerous Presidential speeches and ideas for reducing gun violence, as well as those from influentials on the other side of the issue."
Griffin, meanwhile, touted his own network's (copious) coverage of the gun debate. "This is one of the critical issues of the day, and MSNBC's been on it," he said.
(h/t NYT)
Have a tip we should know? tips@mediaite.com