'Disgraceful': Reps. Chaffetz, Lynch Clash Over Intimidation Of Benghazi Witnesses On Fox News Sunday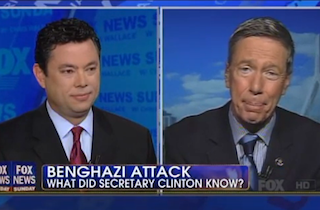 Rep. Jason Chaffetz (R-UT) and Rep. Stephen Lynch (D-MA) paid a visit to Fox News Sunday this week to talk Benghazi. Speaking of the investigation into the review and the charge that witnesses have been blocked from testifying, the pair clashed over the arguments, with Lynch asserting that Democrats have been left out of the whole process.
"The Republicans control the House," Lynch said. "We don't have the ability to hold a hearing. The Democrats have been completely kept out of this whole process. This has been a one-sided investigation, if you want to call it that. … I think it's disgraceful."
Chaffetz said that witnesses have "absolutely" been threatened and intimidated from coming forward. They're "scared to the death" of what the State Department is doing, he asserted. Lynch jumped in to argue that Chaffetz's assertions were "completely false" — that the attorneys have not asked for the information yet and, in fact, the State Department would cooperate.
Not surprisingly, Chaffetz was insistent about his story, further adding that Democrats are more than welcome to participate in the process. But they simply haven't. The congressmen refuted nearly every point they made to each other, neither agreeing on much about where the situation stands.
Chris Wallace later jumped in to pose the question about how much then-Secretary of State Hillary Clinton knew about the security requests (which she said she never saw). Every cable that goes to the department, he told Chaffetz, has Clinton's name on it — so that's not necessarily a way to argue that Clinton should have seen that cable. Chaffetz by asking for the release of the unclassified document.
Clinton, he argued, "claims" to take full responsibility for what happened, but simultaneously "pleads ignorance."
Take a look, via Fox News:

Have a tip we should know? tips@mediaite.com