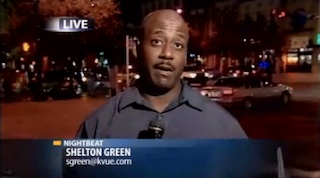 Did you know that Johnny Depp has a new movie out now in which he plays another wacky, rum-swilling drunk? Well, if the Walt Disney Company has its way, you'll never ever know. That's why they're using the magic of corporate synergy to ban all of their Disney-owned ABC affiliates from talking to Depp about his new movie, The Rum Diary.
Yes, apparently someone at Disney is terrified, just terrified, that the public may somehow confuse a 1950s-set, hard R-rated, Hunter S. Thompson adaptation about a naive journalist going up against a slick real estate developer in Puerto Rico with one of their Pirates of the Caribbean movies. Clearly an easy mistake to make. So a clause in Depp's Pirates contract disallowed their affiliates from talking to the actor or even videotaping him at the movie's Austin Film Festival premiere.
This didn't sit well with the clearly peeved KVUE reporter Shelton Green who made the contract the focal point of his Film Festival report. Reporting from down the street away from the premiere and with his cameraman zooming in on the mob surrounding Depp in the distance, Green explained the situation:
"We came here expecting to talk to one of the biggest names in Hollywood, but apparently, Disney doesn't want Johnny Depp's new movie premiering here at the Paramount [Theatre] to get more exposure than his new Pirates of the Caribbean movie. So, they wouldn't allow us to interview him nor would they even allow us to get video of him."
Yes, it sure would be terrible if that movie got a lot of exposure thus totally distracting people from a fifth Pirates movie (which, by the way, won't even start production till next summer). Oh well, thank you Disney for keeping us from getting confused!
Watch KVUE's report below, followed by the trailer for The Rum Diary. Don't be surprised if it doesn't feature any pirates.
(h/t The Playlist)
Have a tip we should know? tips@mediaite.com