'Distressed Baby' Mom Blasts Back at AOL CEO Tim Armstrong's 'Brutal' Remarks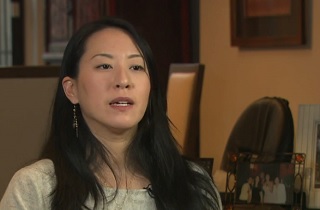 As America Online CEO Tim Armstrong weathers the blowback for his comments blaming benefits cuts on two "distressed babies that were born," the mother of one of those babies is speaking out. Deanna Fei followed up her scorching Slate commentary on Armstrong and the birth of her daughter with her first televised interview Sunday night. While she told NBC Nightly News she's accepted an apology from Armstrong, Fei said she wants the "national conversation" about health care costs to continue.
Armstrong spent last Wednesday trying to explain his decision to cut 401k benefits, first telling CNBC that Obamacare was to blame, then, on a company conference call, delivering another explanation. On that call, Armstrong laid the blame for the 401k change, which switched the company match from a per-pay-period match to an end-of-year match, at the tiny feet of two babies:
"Two things that happened in 2012," he said, according to a transcript provided by an AOL employee. "We had two AOL-ers that had distressed babies that were born that we paid a million dollars each to make sure those babies were OK in general. And those are the things that add up into our benefits cost. So when we had the final decision about what benefits to cut because of the increased healthcare costs, we made the decision, and I made the decision, to basically change the 401(k) plan."
Armstrong apologized for the remark on Saturday, and restored the old 401k policy. Fei, the mother of one of those babies, took to the virtual pages of Slate magazine to blast Armstrong's remarks, which she characterized as "brutal" and "a cruel violation," and to share the dramatic, heart-wrenching story of her daughter's birth and recovery.
On Sunday night, Fei told NBC Nightly News' Kristen Dahlgren that the day her daughter was born, she was told there was a "one-third chance of her dying before we would ever be able to bring her home."
"It was sort of impossible to process that he was talking about my daughter, who was home with me at that time, to hear her labeled a 'distressed baby,'" she said of Armstrong's comments. In a portion of the interview not included in the broadcast, called Armstrong's comments "completely dehumanizing" and "a violation."
Fei added that "to me, there did sound like the implication that somehow we were greedy consumers of health care benefits, that we had kind of gobbled up more than our share of the pie."
Mrs. Fei said that Armstrong had reached out to apologize, and had "spoken in very heartfelt ways about how badly he feels for having caused us this hurt, and I accept that."
"I think it's important to have the national conversation about health care spending that we are having," she added, "but I also think it's important to keep in mind the lives that are sometimes, you know, so tiny, so vulnerable, so perilous that we're really talking about."
Here's the video, from NBC Nightly News:
Update: The Today Show aired a report on Armstrong's apology that included additional footage from Dahlgren's interview Monday morning, and new comments from Fei to NBC's Savannah Guthrie. "I do forgive him," Fei said of Armstrong.
Here's video of that report, from The Today Show:
Visit NBCNews.com for breaking news, world news, and news about the economy
Have a tip we should know? tips@mediaite.com