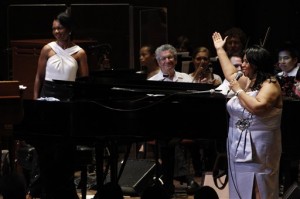 Former Secretary of State Condoleezza Rice has kept a low profile since her throne was abdicated to Hillary Clinton, but that all changed last night when she teamed up with legendary songstress Aretha Franklin for a soulful jam session.
The two originally met at a White House function when George W. Bush was still in office, where they bonded over their love of music – Condi is a classically trained pianist, and Aretha is, well, Aretha. Despite the fact that Franklin has expressed her allegiance to the Obama administration with enthusiastic headgear, the two were able to put their political differences aside and take the stage together in Philadelphia to raise money for inner city children in Philadelphia and Detroit, as well as awareness for music and arts education.
Rice started things off with some classical music, showing off her skills with Mozart's Piano Concerto No. 20 in D Minor. But the atmosphere quickly changed when Franklin employed her as an accompanist on "I Say A Little Prayer" and "My Country 'Tis Of Thee." Though skeptical at first if Rice had the funky chops to keep up with Her Holy Divaness, Franklin conceded that Rice is, in fact, "formidable."
This whole thing sounds like a VH1 executive's fantasy for the next installment Divas Live, recalling the original (Celine! Gloria! Aretha! Shania! Mariah!) rather than the recent (Miley? Some girl named Jordin?) to bring the special back to its epic roots. Act two: former Attorney General Janet Reno and Tina Turner singing a rousing rendition of "Private Dancer." Divas Live 2010 baby!
Watch some of the concert below. It's not as earth shattering as this number, but Condi does a cute little dance at the end, so it's worth it.
Have a tip we should know? tips@mediaite.com