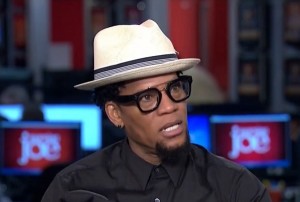 Standup comic, actor, and author DL Hughley appeared on Thursday's Morning Joe to promote his new book "Black Man, White House," and took several sharp jabs at presumptive Republican presidential nominee Donald Trump, and the Republicans who still support him despite acknowledging his overt racism. Asked for his opinion of Trump, Hughley flat-out declared "He's a racist," and asked about Paul Ryan's continued support despite labeling Trump's comments "textbook racism," Hughley replied that "He's saying a racist is better than a liberal."
Hughley circled back later in the interview to take aim at others who are willing to support Trump in order to defeat Hillary Clinton:
If Donald Trump was your child and he acted like that, you'd whip his ass, you would not tolerate that. And for expediency's sake, we're tolerating a man who is beneath the presidency of the United States of America. I love Hillary Clinton, I won't deny that, but there are things she could do I would deny her my support right now. Tomorrow. And that is, to me, what character is. I see these people and they say things that are so insulting and then say, well, at least his ideas are better than these other ideas. If you are surrounded by people who think it's okay to be comfortable at rallies and say the things they say, that you say the things you say out loud and nobody brings you to account… If it walks like a duck and talks like a duck, it says the n-word behind your back.
Speaker Ryan canceled his weekly press conference Wednesday, a move which some interpreted as avoiding questions about Donald Trump.
Have a tip we should know? tips@mediaite.com