DNC's Debbie Wasserman Schultz: Romney Made 'Intelligence Gaffe' In England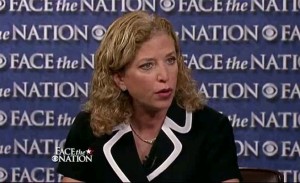 Democratic National Committee chairwoman Debbie Wasserman-Schultz criticized Mitt Romney over the several gaffes he made in the first few days of his overseas tour. She argued that the gaffes show that Romney lacks the "diplomatic skills" to be president, and went so far as to say he made an "intelligence gaffe" by publicly stating he had a meeting with British intelligence.
RELATED: Wasserman-Schultz Takes Swipe At Romney: I Kept My Dogs Inside The Car During Trip
Wasserman-Schultz went down a list of gaffes Romney has made on his overseas tour, criticizing him for each and every one of them.
"Starting out in Great Britain, in England, where he insults, on the eve of a significant event for one of our strongest allies, makes a huge intelligence gaffe by revealing the existence and saying out loud the existence of their biggest intelligence agency, appearing not to know the name of the opposition leader…"
The "intelligence gaffe" comment was a reference to Romney publicly revealing he had a meeting with the head of MI6, the secret British intelligence agency. Of course, this comes on the heels of a prominent Democratic senator suggesting the White House may be responsible for intelligence leaks to the press, so perhaps this might not be the best time for the Democrats to call Romney out for a minor gaffe.
Bob Schieffer asked Wasserman-Schultz if, as the most recent edition of Newsweek phrased it, Romney is a foreign policy "wimp." Wasserman-Schultz did not answer directly, but instead went after Romney on issues of financial secrecy and outsourcing. She said the Republican candidate has been "all over the place" with his positions.
Schieffer closed the interview by asking Wasserman-Schultz about the economy and if President Obama is going to be able to turn it around in any substantial way before the November election. Wasserman-Schultz acknowledged some progress since 2009, and called on Congress to pass the American Jobs Act pushed for by Obama.
Watch the video below, courtesy of CBS:
Have a tip we should know? tips@mediaite.com
Josh Feldman - Senior Editor