DNC's Wasserman-Schultz and RNC's Priebus Shout Past Each Other in Epic Crossfire Showdown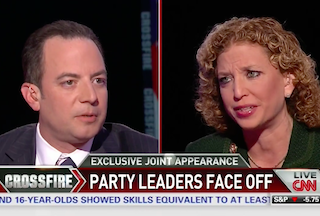 The respective heads of the Democratic and Republican Parties met face-to-face Tuesday for their first joint appearance in more than a year on CNN's Crossfire. If the recently-rebooted show thrives on conflict they had two of the most diametrically-opposed figures in politics to help breathe some added life into the show. Rep. Debbie Wasserman-Schultz (D-FL) and Reince Priebus spent the vast majority of the 30 minute program arguing past each other, often shouting down each other's points simultaneously.
The first segment focused on–what else–Obamacare, and the impact the law is likely to have on the upcoming 2014 midterm elections. Host Newt Gingrich began by asking Wasserman-Schultz if Democrats, especially those running in red states, were really going to "wrap themselves in Obamacare for reelection."
The Democrat proceeded to explain how her members would be happily running on all the undeniably positive aspects of the Affordable Care Act, much to the shock and disbelief of Priebus. In Alaska, in South Dakota, in Arkansas on Obamacare?" he wondered aloud, as Wasserman-Schultz continued to talk. "I mean, it's unbelievable."
Watch the clip from the first segment below, via CNN:
When the show returned from commercial, the hosts attempted the change the subject to the "War on Women," but within about two minutes, they were back to Obamacare, which meant more overlapping words from the two party heads. While Priebus was denouncing President Barack Obama's "European Obamacare," Wasserman-Schultz was reminding him that the United States is still using "private market health insurance."
The whole thing made it nearly impossible for the hosts to get a word in edgewise, a point that Stephanie Cutter acknowledged towards the end of the second segment. "It is obviously very heated. We haven't been able to get in our questions, but that's good. This is a good discussion."
Watch the clip from the second segment below, via CNN:
Fortunately, Crossfire has abandoned its "Ceasefire" segment in favor of "The Final Question," because there really is nothing on which these two could have agreed. When the show returned for the third time, a question about Hillary Clinton's chances in 2016 immediately devolved into yet another shouting match between the two guests. Ultimately, Gingrich had to invoke his former powers as Speaker of the House to shut things down and end the show.
Watch the final segment below, via CNN:
[photo via screengrab]
— —
>> Follow Matt Wilstein (@TheMattWilstein) on Twitter
Have a tip we should know? tips@mediaite.com