DNC Chair on RNC Chair: He's 'Putting the Best Spin He Can' on GOP 'Chaos', 'Open Warfare'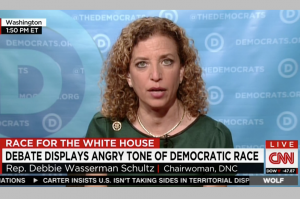 A day after the two remaining Democratic candidates squared off in Brooklyn in a feisty debate, the DNC Chair spoke with CNN's Wolf Blitzer, taking a few pot shots across the aisle in the process.
Congresswoman Debbie Wasserman Schultz spoke with Blitzer just minutes after the Chair of the RNC, Reince Priebus, did the same. Wasserman Schultz kept with her talking points that the Democratic base and the party have continued to operate in a fair method of campaign competition. But as for the right side of the aisle?
"I know that my counterpart is doing his best not to pour Bailey's in his own coffee, to use his words from the other day," Wasserman Schultz said of Priebus. During a recent interview with former Massachusetts Senator Scott Brown on WMEX 1510 radio, Priebus joked that the fractured GOP has not yet caused him to pour the alcoholic Irish creme into his cereal.
Wasserman Schultz continued Friday:
"[Priebus is] putting the best spin on the situation that he can. The reality is that he has utter chaos going on on that side of the aisle. He has open warfare from his front-runner who is likely to be his nominee in Donald Trump. He goes on tv and is not talking about the issues, he's talking about defending the rules. By the way, I agree with him: we do have rules. The candidates know what those are. But be that as it may, no party chair wants to be debating their own likely nominee over rules and process. They want to make sure at the end of the primary contest and even during it, that they're able to get their party's message out."
Before moving on, Wasserman Schultz clarified for Blitzer exactly what those party messages were emerging from the Republican field: "The message that's coming out is extremism, misogyny, bigotry, and their primary has basically sent a message to Americans: no rational people need apply."
Watch the above clip from CNN.
—
J.D. Durkin (@jiveDurkey) is a columnist at Mediaite.
Have a tip we should know? tips@mediaite.com