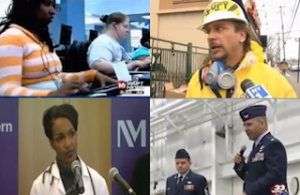 The sequester deadline has come and gone, but the blame game continues. The Democratic National Committee's posted dozens of videos to its YouTube channel Monday afternoon in an attempt to really hit home how bad the sequester is hitting local communities around the country. It's all part of their #GOPSequester campaign that aims to link Republicans to the spending cuts that went into effect Friday, much in the same way House Speaker John Boehner's team coined the term "Obamaquester" early last month.
The videos, primarily taken from local news reports, highlight everything from cuts to medical research in Illinois to education layoffs in Texas. The only commentary from the DNC comes in the titles of the videos, which each begin with the hashtag #GOPSequester. The group is employing a similar strategy on Twitter, where they are posting stats about the impact of the budget cuts and linking out to articles that outline the effects.

Democrats are also urging Party members to "demand Republicans in Congress come back to the table and work with the President to stop this crisis" by signing a petition and posting their own tweets using the #GOPSequester label.
While these efforts could help cement the notion that Republicans are to blame for the sequester and mobilize people to push GOP members in the House to pursue a compromise, all of the bad news hype could also just serve to bum everyone out and increase the notion that all is lost.
Watch one of the many videos below, via the DNC:
—
>> Follow Matt Wilstein (@TheMattWilstein) on Twitter
Have a tip we should know? tips@mediaite.com