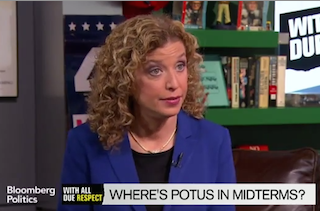 When DNC Chairwoman Debbie Wasserman-Schultz sat down with John Heilemann and Mark Halperin on Bloomberg TV's With All Due Respect Thursday afternoon the pair of pundits grilled her about President Barack Obama's absence from the most competitive Senate campaigns heading into next month's midterm elections.
"The president is campaigning in competitive races during this election cycle," Wasserman-Schultz insisted, predicting that the Democrats could pick up seats in the House and hold the Senate.
But Heilemann would not let her get away with that statement without mentioning specifics. "What competitive Senate races is the president campaigning in?" he asked.
"Like I said, the president has been campaigning in competitive races," she replied, again intentionally leaving out the word "Senate." When Heilemann asked if she could name one Senate race, she repeated, "There are races that the president is campaigning in around the country, and he's also governing."
As Wasserman-Schultz knows well, the majority of the Senate races that will decide which party controls the chamber next year are taking place in red states that Obama lost in 2012. Because of this, Democrats running in those states have tried to distance themselves from the president.
Earlier this week, Obama undermined that distance by telling Al Sharpton's radio audience that the incumbents Democrats running for re-election in those states are "all folks who vote with me" and "supported my agenda in Congress."
Instead of campaigning with candidates in those states, President Obama has put more focus in get out the vote tactics — or "GOTV" as Wasserman-Schultz put it.
Watch video below, via Bloomberg TV:
[Photo via screengrab]
— —
>> Follow Matt Wilstein (@TheMattWilstein) on Twitter
Have a tip we should know? tips@mediaite.com