DNC's Tim Kaine: Obama "Had A Lot Of Things He Had To Do" Before Focusing On Jobs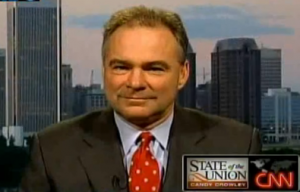 Democratic National Committee chair Tim Kaine appeared on CNN's State of the Union and in addition to making some minor news by announcing that he intends to remain chair for another two-year term and that there is virtually no possibility of a Democratic primary challenger to President Obama, it's his comments about Obama's focus on job creation that is likely to get the most attention.
Below was the exchange with substitute host Ed Henry:
Henry: The president also said his singular focus in the next two years is going to be focusing on creating jobs. Does that suggest that maybe he did not fully focus on creating jobs in the first two years?

Kaine: Well, Ed, he had a lot of things he had to do. You know, when he started as President we were in the midst of two wars, he stopped one of them. And we were also in the midst of the worst economic collapse since the Great Depression and he had to spend an awful lot of time stabilizing the financial system of the country so that it wouldn't put us into a deeper tailspin. With that work done he now can focus specifically on increasing job production.
It seems Kaine was not prepared with the previously familiar talking point that Obama's stimulus plan "saved or created" many jobs, and that the jobs issue was on the President's radar all along. Regardless, with unemployment still at unacceptably high levels and with Obama supporters like Kaine strangely suggesting that a lot of other things in the past two years were more important, concerns over the President's priorities are likely to persist.
Watch the clip from CNN below:

Have a tip we should know? tips@mediaite.com