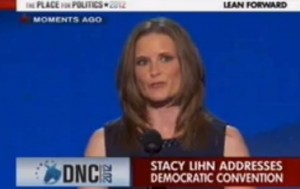 It's only the first night of the Democratic National Convention in Charlotte, North Carolina, but the Democrats have already managed to pack an emotional punch that makes last week's Republican confab seem all the more bloodless. Stacy Lihn, mother to little Zoe Lihn, told the crowd that President Obama's health care reform law "is saving my daughter's life," and made it clear that if Mitt Romney is elected, and makes good on his promise to repeal Obamacare, the consequences for Zoe would be disastrous.
Lihn explained how Zoe, born with a congenital heart defect, needed three open-heart surgeries which would, in all likelihood, push her close to, or past, her insurance company's lifetime coverage limit, leaving the family unable to pay for the care she needs.
She then countered one of the more powerful lines from Romney's RNC speech, saying "Governor Romney says people like me were most excited about President Obama the day we voted for him. But that's not true. nNot even close.For me, there was the day the Affordable Care Act passed, and I no longer had to worry about getting Zoe the care she needed. There was a day the letter arrived from the insurance company saying our daughter's lifetime cap had been lifted. There was the day the Supreme Court upheld Obamacare."
The audience swelled with applause, making it difficult to hear Mrs. Lihn when she said "And like so many moms with sick kids, I shed tears."
Then, she went in for the kill. "If Mitt Romney becomes president, and Obamacare is repealed, there's a good chance she'll hit her lifetime cap," Mrs. Lihn continued, as a baby could actually be heard crying offstage, "There's no way we could afford to pay for all of the care she needs to survive. When you have a sick child, it's always in the back of your mind and sometimes, in the front of your mind. On top of that, worrying that people would let an insurance company take away her health care just because of politics? One in one 100 children are born with a congenital heart defect. President Obama is fighting for them. He's fighting for families like mine, and we need to fight for him."
And you thought Joe Soptic was a tough act?
Conservatives abhor this kind of appeal, mostly because it's close to impossible to counter, but one of the dangers of a speech like this is that people take away the impression (because it salves them) that cases like this are rare. They aren't. The repeal of Obamacare will result in lots of people dying who otherwise would not have. You can call that fact an emotional manipulation, or a bleeding heart appeal, or whatever you want to, but it is a fact. Lifetime caps, preexisting conditions limitations, rescission, these are all things that kill people, things that can happen to anyone, and things which Obamacare stops. All of the most popular provisions of Obamacare are only made possible by the added participation that the least popular provision, the individual mandate, provides. If you want to argue against it, you owe people like Zoe's mom an answer. I dare anyone to tell her it's not worth an extra fourteen cents a pizza.
Here's the speech, from MSNBC:
Follow Tommy Christopher (@TommyXtopher) on Twitter.
Have a tip we should know? [email protected]