DNC's Debbie Wasserman Schultz: Rick Perry Shouldn't Be Taking Credit For Texas Job Creation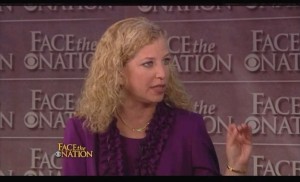 With all the Michele Bachmann news happening today and Tim Pawlenty suddenly dropping out of the race, let us not forget the sudden entrance of Rick Perry into the Republican presidential field. The Texas governor has breathed new life into the campaign, and could potentially shake up what has been described as a relatively lackluster assortment of candidates. But on Face the Nation today, DNC Chairwoman Debbie Wasserman Schultz simultaneously bashed Perry for taking credit for job creation in Texas while defending President Obama's record on job creation and the economy during his term of office so far.
Norah O'Donnell, subbing in for Bob Schieffer, highlighted a clip of Perry criticizing the president for downgrading our economic standing in the world, and asked Wasserman Schultz if anything he said was factually incorrect. Wasserman Schultz reiterated her clear support for President Obama, citing his achievements on health care reform and financial reform, and believed Americans still appreciate the "hard work and effort" the administration is making to deal with the tough economy.
O'Donnell then highlighted a statement made by the chairwoman that the United States is in "much better shape" now than in January 2009. O'Donnell cited figures that clearly show unemployment has gone from 7.3 percent to 9.1 percent in the last two years, and 13.5 million more people are on food stamps today than when President Obama took office. Wasserman Schultz argued this was a continuing result of Bush administration policies, and put her earlier comment in perspective by claiming that over 2.4 million private sector jobs have been created during Obama's presidency.
This was a perfect opportunity for O'Donnell to bring up Perry's claim that Texas was responsible for creating roughly half of all jobs in the United States, and Wasserman Schultz did not mince words in going after the governor's own record on creating jobs.
It's extremely difficult for him to deserve credit for that job creation when you have rising gas prices that created oil jobs that he had nothing to do with; when you have military spending as a result of two wars that created military jobs that he had nothing to do with; when you have the Recovery Act championed by President Obama that created jobs in Texas that he had nothing to do with, so it is way overblown to suggest that job creation in Texas is squarely on the shoulders of his policies.
And despite lower poll numbers, Wasserman Schultz does not believe President Obama is "in trouble." But as for the Republican candidates, she thinks that they are all "trying to out-right-wing each other," comparing them to a popular children's toy.
They are all so similar they might as well be LEGOs, they're that interchangeable.
Watch the video below, courtesy of CBS:
Have a tip we should know? tips@mediaite.com
Josh Feldman - Senior Editor