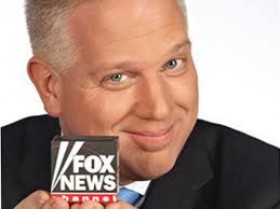 Long before news came that Glenn Beck would be leaving his 5PM slot on Fox News, the controversial entertainer and opinion mediaite planned a week long tour of "Glenn Beck Live," with dates in the South and Midwest. Since Beck's time on Fox News is coming to an end (though no one yet really knows when), we are left only to speculate who will take over his 5PM slot and to perhaps seek clues from who is chosen to fill-in for him over the next five days.
First of all, today's show is being covered by Beck's regular fill-in, Judge Andrew Napolitano who has taken over the show during Beck's previous vacations, and was identified last week as Mr. Beck's favorite to take over that particular slot. But it seems somewhat far-fetched to see Napolitano actually take over the spot full-time: he did get good ratings when he last covered for Beck, but one week's worth of ratings doesn't prove much more than an audience is well trained to tune in at a specific time. Further, Napolitano's own controversial views on the events of 9/11 make Beck's own program seem far less conspiratorial by comparison.
Another likely face we could expect to see at 5PM on Fox News this week is FBN's Follow the Money host Eric Bolling. Bolling appears to be a favorite among programming executives at Fox News, and is a frequent contributor on virtually every Fox News program throughout the day. But despite the ubiquitous visage of Bolling on FNC, he hasn't exactly made a lasting impression on viewers, at least yet. Bolling anchors the 10PM program on the fledgling Fox Business Network, so according to at least one source familiar with the landscape at Fox News, it seems unlikely that we should expect to see Bolling switch to 5PM, at least at this point.
What about Megyn Kelly you ask? Long time readers of Mediaite are well aware that we've been impressed with Kelly's moxie, or more to the point, her willingness to go toe-to-toe with a number of broadcasting and political heavyweights, and so she might be the most logical replacement for Beck at 5PM. But another complication for Fox News executives tasked with figuring out who will take over for Beck is that Ms. Kelly just left for a few months on maternity leave, as she announced in her sign-off last Friday that she was expecting to give birth to her second child in the next week or so.
The smart money replacement is probably a name that we have not yet seen; perhaps a political thought-leader from outside the traditional world of broadcasting television, a Joe Scarborough type for the next decade. Its not impossible to envision a former politician who's political career seems over (Rick Santorum?) One could just as easily see Roger Ailes play against type and completely re-imagine the 5PM time slot with a different direction with Juan Williams (!) or Greg Gutfeld (which is what I would personally like to see.)
One thing we will likely expect to see in the next week? A future article that will tout the ratings success of Beck's replacement host(s). In the strange economy of cable news promotion and media coverage, there is certain to be a writer somewhere that will notice that ratings at 5PM without Beck in the anchor chair will be solid, if not better than Beck's ratings of late, which actually, will likely be a hard post to write. Despite the hand-wringing and celebrating of both Beck's and Fox News' detractors, Beck's ratings in the last few weeks have been impressive.
Twice in the last month he has had the second rated show in the demo of all cable news shows (March 22nd and March 25th.) Further, on Monday of this last week, he finished with the second highest rated show in cable news (after Bill O'Reilly) in terms of viewers aged 25-54.
After all that was said and done last week, it certainly appears that the decision by Fox News and Glenn Beck to part ways was as amicable as one could reasonably imagine. And the fact that Beck has not yet announced when his last show on Fox News will air seems to indicate that decisions for Beck's replacement have not been made. In fact, the actual unwinding of the Beck-Fox News relationship came so surprisingly quickly that it puts Fox in the unenviable position to make a reactionary decision and not a proactive one to replace him at 5PM.
But if there is one thing that we've learned in these sorts of instances it is to never bet against Roger Ailes. One gets the sense that this will be yet another opportunity for the Fox News chief to remind us some have called him most powerful political person in America today, and that the odds are in favor of him hitting a home run, at least with regards to ratings, when given the chance.
Have a tip we should know? tips@mediaite.com