'Do You Believe the Elections Are Rigged In This Country?': Chuck Todd Grills Kellyanne Conway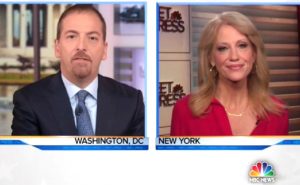 While interviewing Trump campaign manager Kellyanne Conway on today's broadcast of Meet the Press, host Chuck Todd pressed her on her candidate constantly claiming the election will be rigged, asking her if she personally believed the elections in this country are unfair.
Towards the end of their conversation, Todd brought up a recent poll showing nearly half of all Donald Trump supporters believe the election will be rigged if Trump doesn't win. He wanted to know if the campaign will acdept some responsibility for so many supporters believing that despite there being little evidence to back it up.
Conway responded that she and the campaign won't take responsibility because many people already feel like the system doesn't give them a fair shake. This led to Todd interrupting her to ask her personally if she thought elections are rigged.
"Do you believe the elections in this country are rigged," Todd questioned Conway. The campaign manager noted that she doesn't like that there are a lot of dead people on voter rolls. The NBC host told her that people die all the time, thus you'll see their names on rolls for a while after.
This caused Conway to pivot towards government being incompetent, which is why people want Trump to be elected to fix the system. She also stated that Hillary Clinton's campaign would likely jump on board rigged claims if they lost by a small percentage in a state.
She ended by going on a tangent about the Clinton Foundation taking money from countries that hate gay people and women.
Watch the clip above, via NBC News.
[image via screengrab]
–
Follow Justin Baragona on Twitter: @justinbaragona
Have a tip we should know? tips@mediaite.com